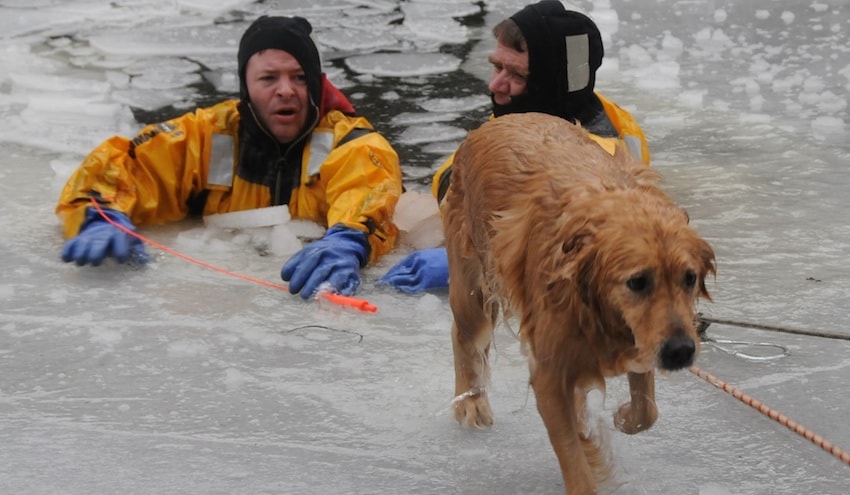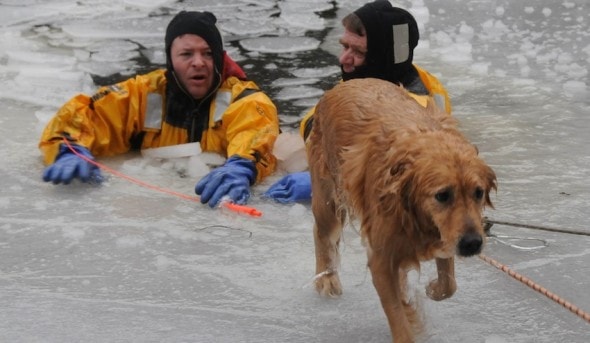 Firefighters in Wellesley, Massachusetts braved an icy Charles River over the weekend to save a Golden Retriever named Crosby.
On Sunday, a woman was walking her dog Crosby when Elm Bank Reservation when the dog fell through the ice while crossing the Charles River. She frantically called 911 for help.
Wellesley Police Officers and Wellesley Firefighters arrived on the scene quickly to help. Crosby was about 50 yards offshore trapped in the ice. The surrounding ice was preventing her from being able to reach the shore.
Firefighter Dave Papazian and Fire Lieutenant Paul Delaney put on cold water survival suits and went into the icy river after Crosby. Firefighter Papazian broke the ice as he swam out to where Crosby was and then guided her back to the shore. Fire Lieutenant Delaney assisted with the rescue.
Crosby was brought safely onto the shore. She was cold and shaking, and other firefighters wrapped her in blankets and a fire coat to warm her up. She was then reunited with her owner.