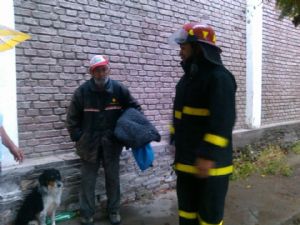 Last month, Caucete, Argentina, received a heavy and dangerous rain storm. Government officials advised citizens to seek refuge since the storm would flood areas, bring hail, and dangerous winds, however, not everyone had a safe place to protect themselves from the storm.
A homeless man and his dog camped under a tree to protect themselves from the rain, but when area firefighters learned the man and his pet were exposed to the elements, the hero rescuers knew they had to do something to help them.
Firefighters immediately rescued the man and his dog, and drove them both to a pet friendly shelter where they safely waited out the storm.
Thanks to the concerned firefighters, who knew the homeless man and pet were not safe under the tree, the two street companions are alive and well today.