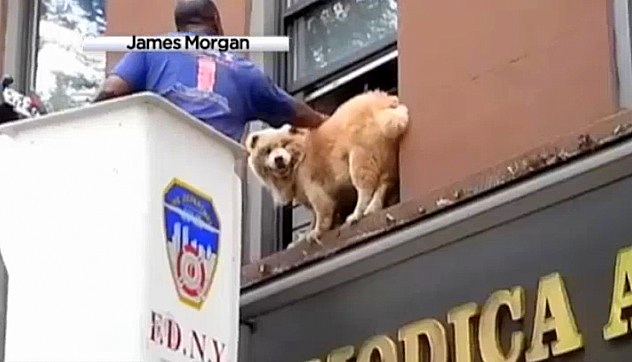 The Fire Department of New York had a crowd of spectators holding their breath as they watched one fireman patiently gain the trust of a scared dog trapped on a window ledge.
Witnesses said the dog appeared to have escaped out of a second-story window, but was unable to climb back in because of the window guard. New York City law states that apartments where children live must have a window guard.
"He must have wiggled through and couldn't figure out how to get back in," said James Morgan, the witness who caught the dramatic rescue on video.
Passersby noticed the dog, teetering on the six-inch ledge, and began to gather around. The FDNY was called in and cleared the area under the window to pull right up under it.
The dog lost his footing several times as apprehensive onlookers watched, helplessly.
"It was pretty nerve-wracking," Morgan said.
A firefighter ascended toward the dog in a cherry picker, but descended to gather a leash, some water and treats. He offered water to the dog, and slowly gained its trust enough to pet it.
He clipped a leash to the dog, and after steadying himself in position, scooped the dog into the bucket lift.
The crowd erupted into relieved cheers for the heroic fire team.
Morgan said the dog was immediately brought inside, but it is unknown if the owner was in the building.
View more videos at: http://nbcnewyork.com.