When Carole Richard from Guyton, Ga., visited a local merchant selling fire bowls, she never expected to come out with merchandise and a rescued dog named Trixie, but that is just what happened earlier this month.
"When I got there, I was greeted by a tiny little black dog," said Richard. "I said hi to her but she kept following me everywhere on the property wanting to be picked up and kissed. So I did, and I fell in love with her."
Richard asked the fire bowl vendor about the dog and was informed the dog came with the property. The vendor had moved there a few months back and it appeared the dog had been abandoned there by her previous owners.
"The people who owned the house just left her behind so now I am stuck with her," the fire bowl merchant told Richard.
Richard could not believe how someone would do that to an animal, but seeing that Trixie had acquired new owners Richard left the establishment with just the fire bowl.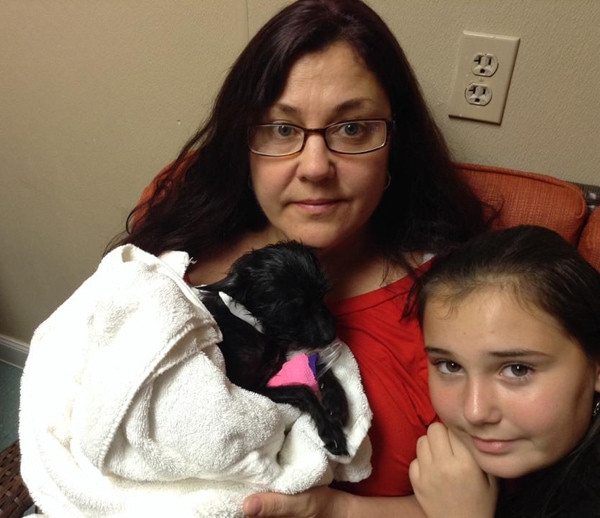 For three days Richard continued to think of Trixie and couldn't stop talking about the dog and that is why Richard's husband advised her to contact the vendor and ask if she could get Trixie. On October 6, 2013, Richard emailed the vendor to inquire about the dog.
"The email stated that if he ever wanted to get rid of Trixie, I would take her and give her a good home," said Richard. "I had fallen in love with her. [The vendor] replied right away with a 'LOL…I will keep you in mind.'"
Richard was disappointed with the response but just two days later the man had a change of heart and emailed Richard asking if she was still interested in the pet.
"I started getting really excited, and wrote back 'yes and yes,'" said Richard. "I wanted her before he changed his mind, [but] he could not see me before the Friday. So we scheduled a pickup for Friday, October 11, at lunchtime."
Richard was full of excitement anticipating the day Trixie would officially become a family member. She even scheduled a vet appointment at Animal Clinic in Rincon, Ga., for that same day.
Friday came and the fire bowl vendor messaged Richard to cancel the appointment. His reasons were at first ambiguous. He then later informed Richard they could not find the dog.
"I was devastated. I wanted to save that little dog and bring her home," Richard said. "I decided that I was going anyways, just in case the dog came back for some reason."
When Richard arrived at the property Trixie's owner seemed mad that she had showed up to ask for the dog, even after Richard had been told not to come.
"The guy's wife came outside saying 'didn't you get our messages?' I played dumb and said 'no, what messages," recounts Richard. "She proceeded to tell me that she could not find the dog anymore, that someone more likely picked her up and she was nowhere to be found."
As Richard stood there listening to excuses she saw the tiny black dog come out from a whole underneath the house.
"She came straight to me, I bend down to greet her and she literally jumped into my arms as if she remembered me. I looked at the woman and said, 'well look who I found.'"
Richard was informed the dog was a bad dog and that is why she lived under the house. Richard did not care if Trixie was a bad dog, all she wanted to do was rescue this helpless dog, take her to a vet and then home to her new life as a Richard's family member.
After visiting the vet Trixie was diagnosed with flea infestation that was causing her anemia. The vet also discovered Trixie had a broken front tooth and some cuts and scrapes.
"The vet said that [Trixie] would have probably died this winter because of the cold and fleas, considering she was only 4 pounds," said Richard.
The dog was cleaned, treated for fleas and received all vaccinations. Bloodwork was also done on her and the vet recommended Richard take a 30-day trial pet insurance just incase the blood work came back with a disease that would be costly to treat. After all Trixie was being rescued and her malnourished condition could be hiding costly health diseases.
"[The vet] gave me a free trial of a flea treatment to apply once I knew the results of her heartworm test, and I thanked him for his service that day and we went home," said Richard. "She was a happy little girl giving me kisses the whole way home."
A few days later Richard became worry when Trixie started acting lethargic. The dog wasn't her usual playful self and Richard believed Trixie could be having an allergic reaction to the flee medication. Immediately she rushed her to Webb Animal Clinic.
After being examined for a second time the vet realized that there was something internally wrong with Trixie. X-rays and an ultrasound were taken and it was discovered that Trixie's organs where not on their rightful places.
"[The vet] explained that [Trixie] had a diaphragmatic hernia and that all her organs were where her heart was," said Richard. "She was going to need surgery to put back all of her organs into place and it was not guaranteed [Trixie] would survive the surgery."
Richard started to cry. She had fallen in love with Trixie and only wanted the best for her. The surgery would be costly and Richard didn't think she would be able to afford it, but she was willing to forgo Christmas, birthday and anniversary presents for the next year, if it meant she would be able to save enough money to cover Trixie's surgery.
Surgery needed to happen immediately and therefore Richard agreed to use her credit card to pay for the surgery.
"Did you activate your pet insurance free trial within 24 hours," the vet asked Richard. She remembered she had done this and hoped the pet insurance would cover 90 percent of the surgery's costs.
"I went home crying. I just could not believe God would give her to me just to take her away 5 days after I had her," said Richard. "I refused to believe that."
Luckily the pet insurance approved the surgery's cost and now Richard did not have to worry about the expense, she just had to worry about Trixie surviving the surgery.
"I received the call at 8 p.m. stating that Trixie was breathing on her own. The surgery was done without major complications," said an elated Richard. Trixie had some liver damage but vets believe that she would recover from that.
What surprised Richard the most was when vets informed her that Trixie had not been born with this problem. It seemed Trixie had been horribly abused and the re-arrangement of her organs was the result of the abuse she withstood.
"I was so mad," said Richard. "The next afternoon, I took my kids to see her in the hospital. They brought her out to me and she slept in my arms, I whispered in her ears that she needed to get better if she wanted to come home to start her new life and told her that I would never ever let anyone hurt her again."
Surprisingly, Trixie had a miraculously recovery after hearing Richard's loving words. She was released from the vet clinic soon after.
"I think Trixie knew she had a good life waiting for her and that her ordeal was now over. She was anxious to start her new life," said Richard. "She truly is a little gem who deserved a second chance and I am glad we decided on the surgery for her. No regrets whatsoever. She has brought so much love to our hearts and even though she was abused, she still shows her love for us unconditionally."