On October 6, 2013, a Husky mix in Lexinton, Ky., was found hurt wondering the streets. Neighbors had seen the hurt dog but no one stepped in to help the pet. When the dog reached Stephanie Collier's front steps she knew she couldn't turn him away.
"I don't like to see anybody in pain," Collier told Lex18. "I'm a very empathetic person. It hurts me to see anybody hurt, and especially an animal that has no voice."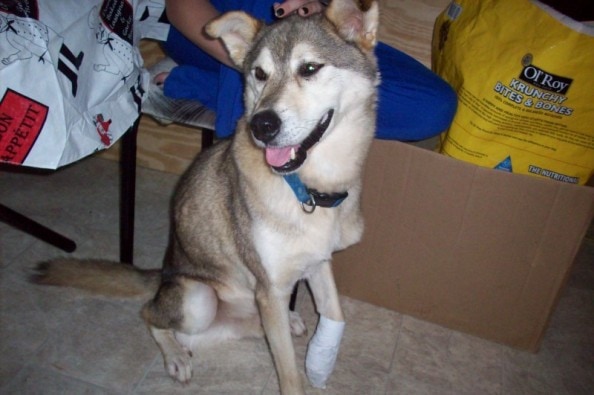 The dog was named Chance and when Collier rescued him, he was bleeding from his front, left leg. The Good Samaritan tried to clean the wound and bandage Chance's foot to control the bleeding. He was then taken to a vet.
The veterinarian cleaned Chance's bleeding paw, bandaged it again, and sent him back home with Collier, but this was not enough. Four days later Chance had to go back to the vet because his foot had not stopped bleeding, but this time Collier decided to take him to a different vet clinic. It was there where she discovered that Chance now had a serious injury and his leg needed amputation.
According to an online post on Chance's Facebook page, the second veterinarian said Chance's leg was not cleaned properly. The veterinarian discovered Chance had ben shot and gun-shot pellets remained on lodge in his paw causing an infections. If the previous veterinarian had discovered the pellets and removed them, Chance's leg could have been saved.
Collier was heartbroken to hear Chance needed major surgery. She did not have the economic means to cover this expense, but she knew she could not let the dog suffer one more day.
"He is a sweet dog who deserves a second chance in life," said Collier. "Why somebody would want to shoot him, I don't know."
An online donation page was created to collect funds for Chance's surgery and so far, more than $700 have been collected. Yet, more funds are needed.
Collier doesn't know who Chance belonged to prior to reaching her front door. She also does not know who shot the innocent pet. Chance had no implanted micro chip and no one has come forward to claim him. Collier has welcomed the hurt stray into her home and treats him as part of her family.
"All the shelters here are kill shelters and we can't fathom taking him there," said Collier. "I am afraid if we give him away he is not going to get better. He stays by my side and is so grateful for the help we have given him. It tears me apart not being able to pay for the care he needs."
On October 16, 2013, Chance went in for surgery at Town and Country Animal Hospital in Maysville, Ky. His front leg was successfully removed and he is now recovering. Chance is learning how to walk on three legs.
Collier and her family continue to struggle to pay the medical bills, and even though it has been rough on them, they don't regret going forward with Chance's surgery.
"This is our dog now. I am certain that we adopted each other," posted Collier on October 18. "We have struggled to eat these last couple of weeks and have not minded a bit. We will continue to fight for him, even when we have nothing left to fight with."
If you want to contribute towards Chance's medical bills please donate at www.gofundme.com/savechanceslife. You can also make a direct donation by calling Town and Country Animal Hospital (606-759-5496) and donate under the "In Care of Chance" fund.
Follow Chance on Facebook to keep up with his recovery.