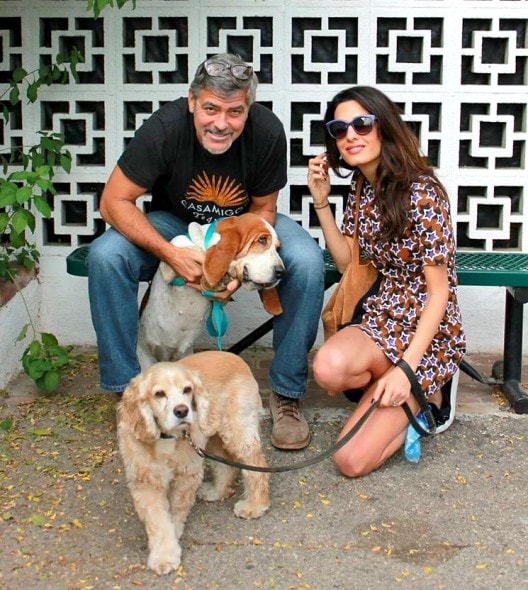 George and Amal Clooney – ever the do-gooders – have done another wonderful thing for this world – they adopted a dog.  While news of an adoption isn't always groundbreaking, it is always worth commending a celebrity for doing so, because their behaviors have the ability to inspire others to do likewise.
"She is a four-year-old Basset Hound mix with gorgeous looks that would land her on any 'Hush Puppies' commercial," San Gabriel Valley Humane Society said on their website.
"Despite those adorable googly eyes, pretty long ears, and shorty legs, Millie was found without a home and hoping for food scraps outside of a local restaurant in San Gabriel earlier this month."
"Today her luck changed for the better when she was adopted by George and Amal Clooney. They were searching for a basset hound and saw Millie's picture on Petfinder.   They did a 'meet and greet' with her and spent time introducing her to their other rescue, a cocker spaniel named Louie.
"It was good news that Millie and Louie hit it off and the happy, new family headed home together!   We hope Millie will stay in touch and send photos.  Congratulations to the Clooney family and thank you for adopting!"
Give the shelter's Facebook page a like – maybe you'll find a dog or cat who you can't resist adopting!
UPDATE 1/27/16:  George Clooney adopts ANOTHER dog – this time, for his parents.  Click here to read the heart-warming story.