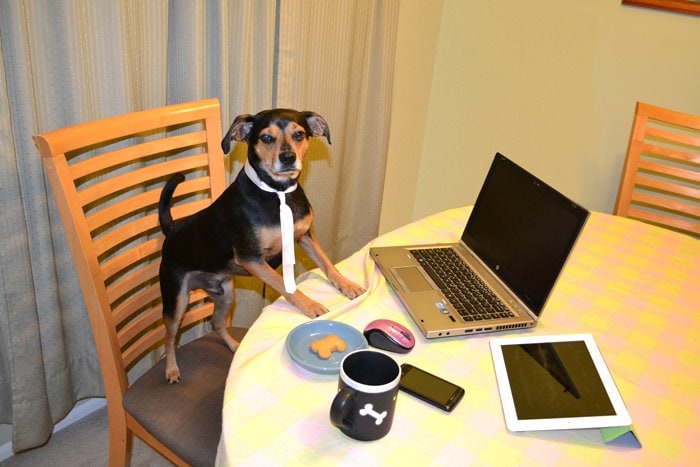 In case you didn't know it, June 21, 2013, is Take Your Dog to Work Day. For those fortunate pet owners that work in a pet-friendly environment, this Friday will be a great day for you. You'll be able to commute with your pooch and spend the day with your fur-baby at the office. Those less-fortunate souls, who can't take Fido to work, will just have to work along a picture of their pet. You can also spend hours on Facebook looking at photos of other people and their dogs at work.
Before packing up Fido and taking him to work, there are a few things to keep in mind.
Some of your coworkers are allergic to dogs. Please ask your cubicle neighbors before showing up with your hairy, four-legged friend. You don't want to make enemies out of those sitting around you.
Ask if anyone is afraid of dogs. Tell your office mates how friendly your dog is. Inform them what's the safest way to approach your dog and how they should interact with your pet if they choose to. If your coworkers are terrified of animals, let them know that your employer has given you permission to bring your pet to work and that "Fluffy" will be kept on a leash and away from them at all times.
Sometimes pets do not feel comfortable in new environments, so come prepared with a plan. Your canine might be the perfect pet at home, but in new places he or she might whine a lot, bark constantly, or simply shake uncontrollably. These unwanted pet behaviors will be a distraction for you as well as your coworkers. If you think your pet might feel uncomfortable at the office, make arrangements and have your pet at the office just a short period of time.
Be prepared for potty accidents too. Come ready to clean after you pet and make sure you are using pet and human-friendly cleaning agents. No one wants to work in an enclosed area that smells like pee or poop, let alone bleach or a strong flower aroma.
Are you planning to take your dog to work?