Conceived in 2006 and introduced nationally in 2007. Teddy the Dog always has one paw out the door. After dropping out of obedience school, he has been roaming the countryside, unleashed, creating quite a buzz wherever he stops. He's been carving fresh glades in Colorado with his powder hound buddies, fishing in New England with some old salty dogs, mountain biking in Moab, surfing at Huntington Beach, and hiking in Hawaii. The humor throughout our line of casual apparel resonates well with people of all ages and gives us a glimpse at Teddy's unique character.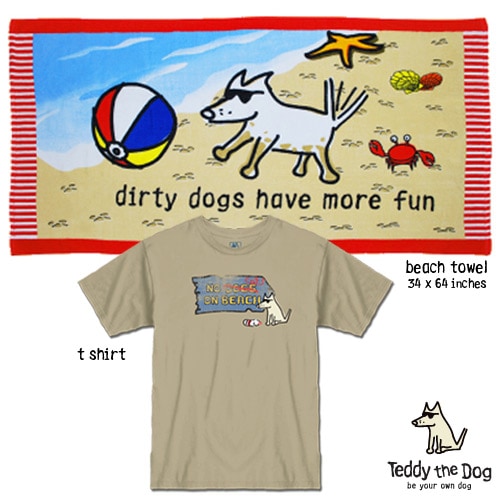 Printed on 100% garment-dyed cotton in coastal New England, the tagless washed look delivers the comfort of "that" shirt that has always been your favorite
The winner of Teddy's summer beach giveaway will receive one of our fan favorite adult T-shirts and one of our oversized 100% cotton plush beach towels (34″ x 64″). Hit the beach with the perfect combination for you and your dog to enjoy an endless summer!
Our resident fashion expert received a complimentary hoodie prior to this giveaway and has been the talk of the neighborhood ever since. Comfy and cute, these are the kind of threads that just fit right – and they make for great conversation pieces. Check out a pic of the hoodie here if you just have to have one of your own!
How to Enter
As always, only those in our e-mail list are eligible to enter, and if you're not subscribed, you can fix that in five seconds by clicking here. When your first daily digest e-mail arrives, hit reply, type the words "enter me" in the subject and send (current subscribers can reply to today's digest). We'll use randomizer.org to select winners, who will be notified by e-mail. Entries will be accepted through midnight Sunday: please note that this contest is only open to readers worldwide.