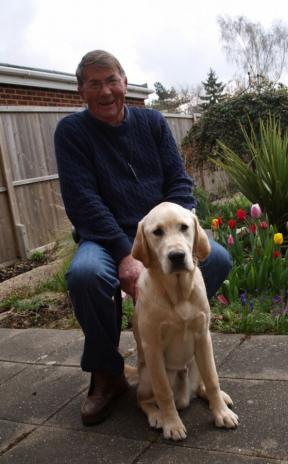 It is a fitting tribute to a man who gave much of his time and energy to help training puppies who would become guide dogs for the blind.  Peter Scurr was killed instantly when he slipped on a path and fell over a steep cliff.  His wife, who was walking beside him, was seriously injured when she also lost her footing and fell.
One of the pups that was being trained by Scurr will be named after him in his memory.  Kirsty Necker, of Southampton Guide Dogs, said: "I worked with Peter for nearly a decade both as a staff member but also as a volunteer puppy walker.  He was a wonderful man with a wicked sense of humour who was full of vitality, totally dedicated to his role as a puppy walker and he produced dogs that were excellent guide dogs."
A fund has been established to raise money to sponsor a pup and have it named after Scurr to honor the contribution has has made over the past 10 years.  So far more than £3,300 has been raised for the cause and  fundraisers hope to hit their £5,000 target by Christmas. His wife who was seriously injured and airlifted to Southampton General Hospital for treatment in the neurological intensive care unit is now recovering at home.
"We hope people who knew Peter, or are inspired by his story will contribute to this wonderful cause," said Necker.