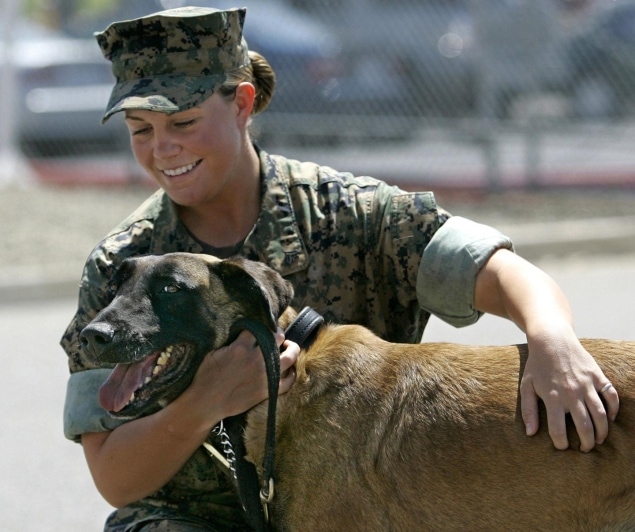 Sergeant Rex made headlines earlier this year when his former handler was having difficulty adopting him because of bureaucratic red tape. Thankfully, in April he was successfully adopted by his former handler Cpl. Megan Leavey. The German Shepherd was able to spend eight happy months reunited with his best friend before he passed away last week.
Cpl. Leavey and Sgt. Rex spent two six-month tours together in Iraq completing more than 100 missions. The two were both wounded in 2006 when insurgents watching from a rooftop detonated an explosive. Leavey suffered a traumatic brain injury and Rex injured his shoulder. When Leavey's commitment to the army ended in 2008 she initially tried to adopt him, but he was still needed by the military. Leavey didn't give up on being reunited with Rex though.
In 2012 Rex developed facial palsy and could no longer work as a bomb-sniffing dog. Leavey was still trying to adopt him, but bureaucratic red tape was in the way and Rex was potentially facing being put down. Senator Charles Schumer stepped in and was able to reunite Leavey and Rex. The two were reunited and Rex was able to enjoy retirement with his best friend.
On December 22nd Rex passed away. Leavey posted the following on her Facebook page:
"Unfortunately today at 10:56am Rex passed away. I was faced with the decision that no pet owner wants to hear, but I know I made the right choice. This is all very sudden and thankfully he did not suffer for long, this all came about late last night. I am so grateful for the last 8 months I got to spend with my partner & my best friend. Rex got to swim in a pool and play with my other dogs. He got to roam the yard & bark at deer, play with as many toys as he wanted all day everyday, sleep in a cozy bed next to me every night, chase and eventually make friends with my 2 cats, enjoy & play in his first snowfall…and so much other great stuff that he would have never had the chance to do if he was never retired. He knew I was with him the whole time and I laid next to him & held him & spoke to him & he was at peace in the end. He is now my guardian angel…even though he already was. So thank you to everyone who supported me & made it possible for me to spend those precious 8 months with my best friend. He was one hell of a dog, one tough ass Marine, and one very special soul. He will no doubt be greatly missed & never forgotten."