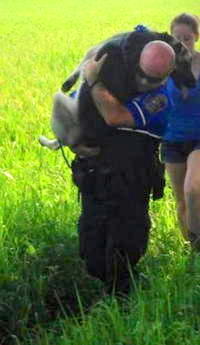 Two days ago, we brought you the story about Nick Ague, the Pennsylvania police officer who rescued an injured German shepherd after a car accident. Because of his heroic deed, he has been chosen to head up the South Londonderry Township's new K-9 program.
The German shepherd, named Mya, was injured in a car accident, but fled from the scene. Patrolman Ague was determined to find her.
"I own a German shepherd myself and I know how devastated I would feel if I never saw my dog again or knew my dog was struck by a car," he explained.
Ague managed to find Mya, but because of the wounds she sustained on the pads of her feet, she could no longer walk. Ague carried the 75-pound dog over his shoulder 200 yards to her owner's car.
"A couple other officers were on scene. I was starting to pull away, but I asked if anyone had a leash. The dog was not willing to walk. It didn't want to budge," Ague said. "I had a lead on me. I got the lead that I keep in the trunk of the patrol car that I could attach to the dog's collar. But then I found out the reason the dog didn't want to walk. Her pads were all torn up from running on the hot asphalt because of the distance the dog managed to clear from the crash.
"I carried her back, maybe 100 to 200 yards. As soon as I put her (in the owner's car) she was completely relaxed. I petted her for a bit, and I guess they took her then from the scene."
With the photo of Ague carrying Mya circulating the internet and receiving thousands of likes and shares, the patrolman has been hailed a hero by many, but he doesn't see himself that way.
"I don't consider myself a hero…I was just doing what I would want someone to do for my dog," Ague said.
"One of the reasons we posted this on Facebook is because this is not his first time doing this kind of stuff," Sgt. Gerry Cassel said. "He is our animal guy. He's our dog guy when we need input. That's his thing. He's been doing things like that for years."
Now the humble hero has been chosen to lead the newly-launched K-9 program, and the department is working to raise money for the initiative. A trained police dog and equipment cost between $18,000 and $25,000.
Officers have already pledged to donate the first $1,000 needed. Anyone interested in contributing to the fund may send a check to:
South Londonderry Township Police
P.O. Box 3
Campbelltown, PA 17010
"K-9 Fund" can be written in the memo.
"It's always something I had an ambition to do ever since I was a kid," Ague said. "I always thought it would be nice to work with dogs, to be a K-9 officer. I just have such an admiration for dogs and working with them."