An 18-month-old named Bryson was playing out in front of his Tennessee home when his dad noticed that their dog, Shiloh, was about to attack him.  But he didn't attack, rather, he jumped in front of the little boy, saving him from what would have most likely been a fatal copperhead bite.  Shiloh has since recovered and is now being treated like the hero he is.
Shiloh has been best friends with Bryson Holloway since he was born.  His father, Bryan, says the two are inseparable.
"They just do everything together," Bryan told WATE. "As much as he loves everybody else, those two, the baby and that dog, have a bond."
The family was outside on their porch relaxing, and as Bryson made his way down the steps Shiloh suddenly leaped in front of him.
"Shiloh jumped up and took off after him," Bryan said. "He lunged right towards the baby and at the baby's feet, and when he did he kind of jerked back."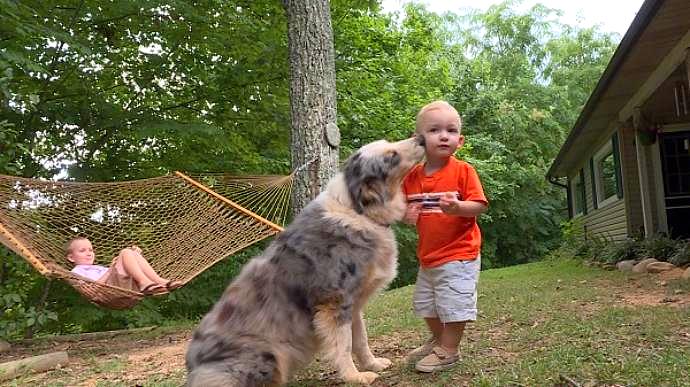 The protective dog noticed the copperhead before anyone else, and took the bite in place of Bryson.
"Turning his head to the side and shaking his head and you could tell he'd been hurt, that the snake had gotten him," Bryan explained. "As furry as he is, and he has so much fur around his neck, you could visibly see the swelling."
Shiloh was rushed to a vet for antivenin and painkillers.  He has fully recovered, but the family is still reeling at what happened, and are so thankful their heroic dog saved their baby.
"He's 24 pounds, and I believe that it would have killed him," said mom, Alicia.
Now Shiloh is being treated like a king.
"Since Shiloh protected him, I couldn't love this dog any more and he's been babied a whole lot since this has happened, because we're very, very grateful for him," Alicia told WVLT.