A Staten Island dog is recovering from a gunshot wound to the head after coming to the aid of his owner during a home invasion.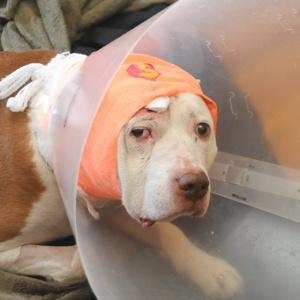 At around 5 p.m. Saturday Justin Becker, 32, said a man posing as a delivery driver forced his way into Becker's apartment on Lambert Street in Graniteville after falsely claiming he had a package.
When the thug pushed his way inside, Becker struck him and forced him to the floor, slamming the door on him and trapping him briefly. Roused by the commotion, Becker's pit bull Kilo sprang into action and jumped onto the doorway. When he did, the attacker shot him in the head at point blank range.
"My dog stuck his head out the door, and then [the thug] shot him in the head," Becker said. The perpetrator fled, leaving a scene of carnage behind.
Becker's girlfriend was convinced that Kilo was dying. "Hold him in your arms. Let him die in your arms," she told him. But Becker said it was too soon to make that call.
"I'm not going to let him die," he said.
He rushed to South Shore Animal Hospital in New Dorp with Kilo in his arms. An examination would return almost unbelievably good news: the bullet ricocheted off Kilo's skull, exiting through his neck and sparing him from a life-threatening brain injury. Kilo had defied the odds.
"This is like, one in a million," said Dr. Greg Panarello. "He's very lucky."
Kilo is recovering at home now with a stash of painkillers and antibiotics, and is under strict orders to rest. The hospital's staff were so impressed with his heroics that they adorned his bandage with a little "S" — for "superhero."