On May 30, 2014, four dogs were thrown from a moving vehicle into a Phoneix, Ariz., dog park just after 10 p.m. Two dogs, Cairn Terrier mix puppies, and a Chihuahua/MinPin mix are just a few months old. They were picked up by Gil Flores and turned into Arizona's Humane Society. The fourth dog was spotted by two homeless women who witnessed the cruel act, and cared for the dog overnight.
The following morning, the homeless rescuers sought help for the female dog because she was injured. The canine was also turned into the Humane Society and given medical assistance.
Tanya Taylor, one of the homeless women told The Inquisitr she got attached to the injured dog while she cared for her, but she knew she wouldn't be able to help the pet with the sustained injures and that is why she asked for help.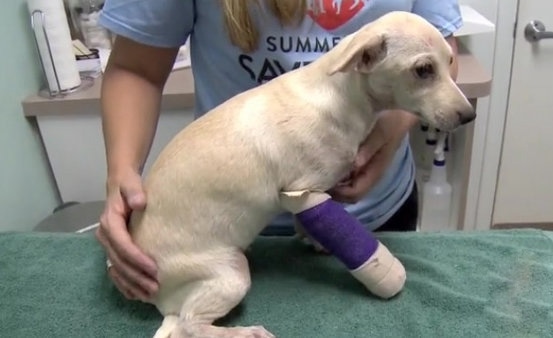 Police have learned the abusers were two Hispanic male teens driving a tan Honda Civic or Accord. They approached the dog park late at night and threw the animals over a 6-foot fence.
All dogs have been checked by a veterinarian and are receiving treatment for their injuries. The puppies were found to have skin infections and some of them, along the older female dog, suffered fractures to their legs from being thrown into the park.
Right now, the puppies are under foster care. The older female dog is being treated and cared for at the Humane Society. All dogs will be available for adoption once they receive a clean bill of health.
Police are urging the community to contact Crime Stopper at 602-262-6151 with any information that can lead to the arrest of the abusers. A YouCaring,com page has been created to collect funds for a reward.