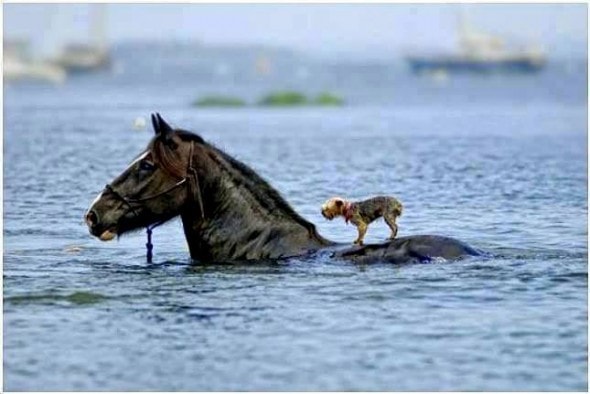 A dog named Abby is lucky to be alive after a horse came to her rescue during her greatest time of need.
Abby, a blind dog in Ukraine, escaped from his (her?) home and ran to a dock on the Danube river. He fell in and may have drown had it not been for a horse named Agripin.
Agripin had actually been swimming when he saw Abby struggling to stay above water. The river was shallow enough for Agripin to quickly reach Abby, who climbed onto the horse's back.
Agripin's owner looked on at the astounding scene and saw the horse carefully bring the dog to safety on shore.
This story happened in November of 2012, but sometimes it can take months for news to surface in other parts of the world.
UPDATE:  Okay, so apparently this story isn't true. This writer had searched for the story of Agripin and the tiny dog he saved, and found several sources with the same "facts." We do not EVER make up stories or post stories that we know to be false, and we do our best to fact-check, but even the best writers and journalists make mistakes. Thank you to the fans who KINDLY pointed out the error without accusing the site of purposely misleading fans or stealing anyone's photos. We would NEVER do such a thing. We always do and will continue to bring you the latest, most inspirational and important news we find.
Anyway, the horse's real name is Brenda Lee, and she enjoys going for swims with her owner, Brian Reid, and her dog pal Lucy. More information can be found here and here.