A Mississippi sheriff's deputy owes his life to his K-9 partner.  Three men dragged Todd Frazier into the woods and slashed him up with a box cutter before intending to slit his throat.  His Belgian Malinois, Lucas, sprang from his vehicle and chomped on the assailants.
On Monday night, Frazier was driving with Lucas when he saw a car pulled over on the side of the road.  He pulled to the shoulder to check on the driver, who appeared to be slumped over and passed out.  While he was being attentive, two other men distracted him and the driver, who was fully alert and part of the ruse, ambushed him.
"When he got out, two other people came out of the woods right by the vehicle, and he backed up and fell, and it was on then," Sheriff Ricky Adam told the Clarion-Ledger.
"They told him they were going to slit his throat, and they were dragging him toward the woods," Chief Deputy Don Bass added.
He believes that the men were going to kill Frazier and dump his body.  They lumped him up and carved his face with a box cutter, leaving a two-and-a-half-inch slice across his forehead.  Despite the terrifying blitz, Frazier managed to keep his wits about him.
"The three of them were dragging him toward the wooded area, and he was able to break one hand free to activate the button that opens the door and it released Lucas," Bass explained.
The pop mechanism on the door had just been installed, and is one of only two of the four K-9 vehicles in Hancock County.  Lucas rushed over to the fracas, and bit at least one of the ruffians.
"We don't know how many he got, we just know he had blood all over him," Adam said.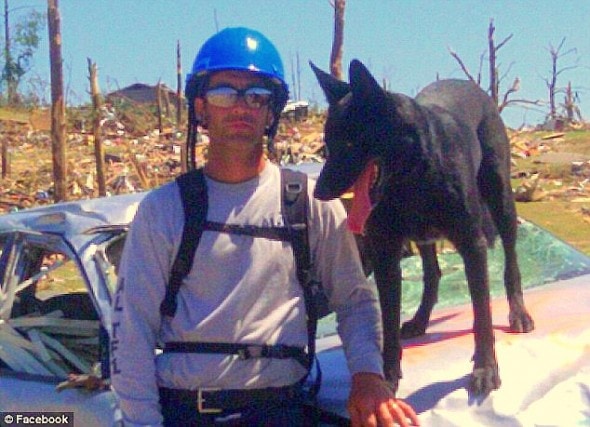 The men quickly abandoned their plan and took off in a blue Lincoln Town Car with a dark vinyl top, which is possibly a 2000 model.  They may have absconded into Louisiana, and at least one is suffering from serious dog bites.
When asked if he believes the attack was connected to the recent threats by gangs to attack police officers, Adam said, "At this point in time I don't care. This kind of attitude has been prevailing in Washington for the last six years and now it's coming home to roost and we're the targets.
"We've been stressing this for months and months now. It's no different from last week we get a BOLO from the state alerting us that the Black Gangster Disciples have put out an SOS, or 'Shoot on Sight' for police officers.  For a couple of months we've been preaching safety because we knew our location between New Orleans and on the I-10 corridor… it's going to happen here."
Bass agreed, and called the near-miss a wakeup call for the department.
"It hits us hard, it brings you to your knees.  We're not a large agency, and all these guys have families. The main thing for anybody is to go home safe, we want you to go home at night. But it could happen to any one of them, the threat is here and the possibility is real."
Fortunately, Lucas was not injured at all, and Frazier was treated and released from the hospital.
Anyone with information is advised to call the Hancock County Sheriff's Department at 228-255-9191.
…..