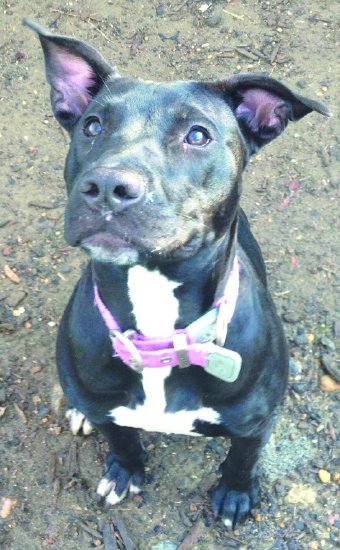 A lost pit bull with great instincts found help last night, by jumping into the open window of an unmarked police cruiser and into an officers lap.  The dog, who has been dubbed "Star", certainly startled D.C. police Sgt. James Black, but that quickly turned to laughter as he realized he was being licked by her.  Sgt. Black, who is a 15 year veteran of the force, was waiting for a light to turn green when all this happened, and when it did he simply drove to the station with Star in his lap.
After providing the lovable pitty with food and water, the Humane Society came to pick her up.   Vice president of the Washington Humane Society, Scott Giacoppo said he's never heard of a dog jumping into a police car for help. But "sometimes a dog senses when there are people who can help them," he said. "It's a sixth sense."
Star was sporting a pink collar, but no tags, and if she is not claimed she will be put up for adoption.  Star is dark in colour with a white star on her chest, and is described as being high energy. The athletic dog is likely between 1-2 years old and will need a home with someone who can give her lots of exercise and attention.  Anyone with information about Star's family, or interested in adopting Star can go to washhumane.org or call 202-576-6664.
Scott Giacoppo says, "She just happened to jump in the right car at the right time. She's very lucky."