Editor's note: Our original version of this story included an erroneous reference to a quote from Frank and Vicki Mineo, owners of Puppies 'N Love. The business is thriving and well, and Vicki says they will continue to provide excellent service and products to customers for the duration of 2012 and beyond.
We stand corrected. In a recent conversation, Vicki explained that their business does not follow the typical pet shop model. In fact, she says they promote the highest standards in animal welfare by committing 100% to the puppies in terms of their health, safety and well-being, by nurturing each individual animal in their care, and they encourage responsible pet ownership through education and knowledge.
Their stores are advocates for spaying and neutering pets. Spaying and neutering is important because it
decreases the number of animals that could eventually become strays and therefore be put into shelters or put to sleep. It also helps stop the transmission of diseases. Research has shown that spayed/neutered pets also live longer,
and may be less likely to roam or become aggressive. To put power behind the cause, Animal Kingdom and Puppies 'N
Love give customers incentive to spay or neuter by offering a free 20lb bag of dog food.
Animal Kingdom and Puppies 'N Love are a Phoenix, Arizona based, family owned and operated company that have been in the retail pet business for over 40 years. They have built a reputation for providing quality pets to their customers and standing behind them in every way possible.
They have an exclusive Veterinary Evaluation Clinic with an on-staff Veterinarian that is licensed by the Arizona State Board of Veterinary Examiners.
They provide the most progressive written health warranty available.
Included is a free complete veterinary exam
All vaccinations are current at the time of adoption.
Each of their puppies carries up to a 4 year hereditary/ congenital warranty

What impressed us most was the Homes for Life Pet Placement Program. When is the last time you heard of a pet store that would rehome an unwanted dog?
"We know that our customers have every intention of properly caring for their pets. Occasionally, circumstances arise making it difficult for pet owners to fulfill that obligation. In the event of this unfortunate circumstance, we encourage customers to let Animal Kingdom & Puppies 'N Love help place their pet through spreading the word through our 100 plus employees, their families and friends, as well as working with local no kill shelters."
original article continued…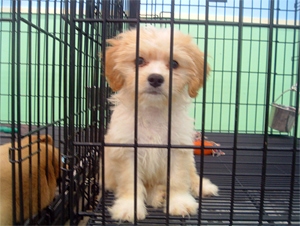 As part of a continued campaign to transition from pet sales to adoptions, the parent company of one of Phoenix's major mall operators said it will not renew any leases with pet store owners who sell puppies and kittens.
Macerich, owner of Westcor malls in the Phoenix area, said retailers have been told to move to an adoption model or find a new place to do business.
"Our focus is now directed to working with local pet rescue organizations in our communities and pet accessory retailers to serve the needs of our shoppers," said Melissa Rupp, assistant marketing manager at SanTan Village in Gilbert, a Macerich property.
A shift in public opinion regarding pet sales and welfare has caused retailers to reconsider live animal sales, and a number of independently owned stores across the country have made the transition successfully. But those stores still selling puppies and kittens say this is an unfair policy change.
Animal rights advocates say the switch is not necessarily bad for business, and that offering adoptable pets helps to draw in new customers while raising money for and awareness about animal overpopulation.
"Some people have this stigma around visiting a shelter, they may be sad … and then you offer people this unique setting," said Arizona Humane Society spokeswoman Bretta Nelson. "It's more cozy. It's more homelike."