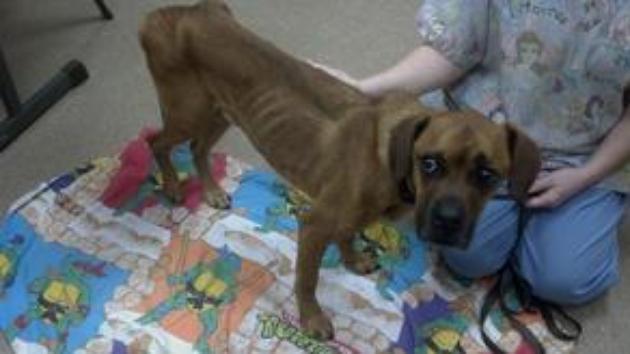 A sweet young dog found on the streets of Lyman, South Carolina was starving and wearing a note from his owner.  The hand written note explained that the dog's name was Dieosol, and that his owner was sick and could no longer care for him.  It added that his shots were up to date, and he was house trained.  When he was brought to Inman Animal Hospital, the 3 year old's ribs were showing and he immediately won the hearts of staff.
"Just seeing him broke my heart," said vet technician Sarah Rice, adding "By the note you can tell that she clearly loved him."  "He was malnourished, just had a few scars on him, which is expected for an animal living on the streets kind of defending for himself," said veterinarian Dr. Christy Belcher.
Once Dieosol is in better health he will have surgery to remove his tail and one his back legs, but the his story will have a happy ending.  Sarah Rice has decided to adopt him and give him a forever home.  As for why he was sent out on the the streets with a note, "Right now the economy is very hard," said Rice. "And for some people pets are not their number one priority. But make sure you exhaust all your other options before you just set them out and leave them."
Other options for people who can longer care for their pets include contacting a local rescue group or checking the drop-off policy at your nearest shelter.  Dr. Belcher also recommends micro chipping and having your pet wear a collar with your contact information and any health-related information.  For Dieosol life is getting better as he slowly nurses back to good health with his new family.