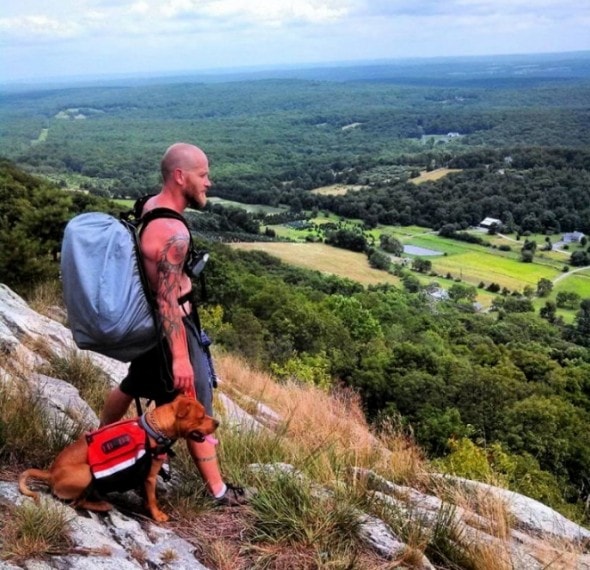 Starting in Georgia in April, Danny Comeaux and his pit bull Moose recently completed the 2,200 mile hike of the Appalachian Trail, which ends in Maine. Danny didn't just want to prove to himself that he could achieve this personal mission, but to show the world what pit bulls are capable of accomplishing.
Thirty-nine-year-old Danny Comeaux has a hard time settling down. His childhood was fraught with changes. Born in Texas, his parents abandoned him as a baby, and he was raised by his grandmother and uncle. As an adult he had two children, but still felt a sense of wanderlust.
The opportunity to hike the Appalachian Trail, known as the AT, came at just the right time. His biological father, nicknamed Moose, had just died, and a friend who had recently completed the journey inspired Danny to go on a cathartic adventure.
"I wanted to do something positive for myself, but also something that my kids could see," said Danny, who shares custody of his 15 and 9-year-old boys with their mothers.
The Niles, Illinois man trained for six months, quit his job at the restaurant Logan's Roadhouse, and hit the road with a pack of bare necessities. He and his pit bull, Moose, began at Springer Mountain in Georgia on April 6. This expedition is not for the novice trekker; Danny overpacked and was injured a number of times. He crossed paths with bears, moose, snakes and other wild creatures.
"We had a lot of people drop out by the halfway point in southern Pennsylvania," he said. "The weather was just almost unbearable at times. It rained more times than it didn't, and then there was the heat wave and the bugs."
Many people don't make it to the finish line, but Danny and his intrepid dog weren't going to give up.
"I think I just had the determination that I really wanted this to happen," he said. "I didn't want to fail. I knew if I failed I was gonna beat myself up mentally."
Perhaps because of his early beginnings, Danny strives to overcome the urge to give up. He can identify with a breed of dog that is often given up on and misunderstood. So he fights breed specific legislation and pit bull discrimination by showcasing Moose, who has proven his salt on the pilgrimmage. Moose hiked the trails, swam the streams, made friends with everyone he met along the way, and even carried his own pack.
"I wanted (Moose) to be that ambassador, to show that (pit bulls) can be amazing creatures, and he did a phenomenal job out there," Danny said.
The pair wrapped up their odyssey on September 5 atop Mount Katahdin in Maine's Baxter State Park. Including rest days, Danny and Moose averaged an impressive 14.5 miles per day over steep, uneven terrain. He'd like to tackle the Pacific Crest Trail next, and then perhaps the Continental Divide Trail, which would complete the long-distance hiking trinity. With Moose in tow, of course.
For now he and Moose are just going to camp out in Boston for a bit, and reflect on his AT learnings: eyes on the path, one step at a time.
"You get out there and hike your hike," he said.
To see more photos of Danny and Moose's adventure, visit their Facebook page.
"Thank you to both my boys (Dylan & Hausten) for telling me every time you loved me when I was able to call," Danny said on their page. "And to Moose, for never giving up, for listening to me whine & cry & always loving me……You are my buddy!!!"