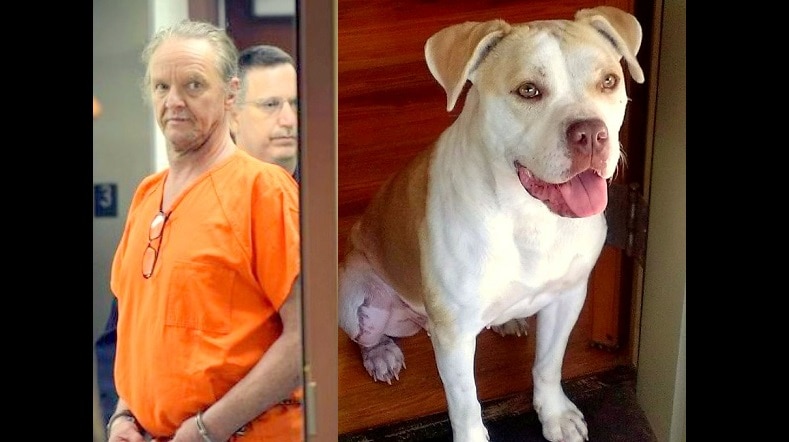 A South Carolina man has been given the state's maximum sentence for animal cruelty after being found guilty of dragging his dog behind his truck for two miles.  Miraculously, she survived, and has gone on to be adopted into a loving home.
Circuit Judge Letitia Verdin sentenced Roger Dennis Owens to 5 years in prison for animal cruelty, with an additional 5 ½ years for traffic offenses.
Prosecutors said Owens dragged the pit bull mix behind his truck for over two miles on November 29th and kept going even after witnesses tried to get him to stop.
"This is one of the cruelest things that I've seen since I've been on the bench," Verdin said with disgust.
The dog had been tied to the open truck bed, with her front paws on the tailgate and her hind legs dragging on the road.  She was running to keep up, but Assistant Solicitor Julie Anders said Owens was driving fast.  Two witnesses pursued the man, following the trail of blood until they found the poor girl abandoned on the road.
"She was and is an innocent, good and gentle creature that did not deserve this heinous act," said animal rescue volunteer Cynthia Sarachino.
The dog, now being called Andra Grace, was wrapped in blankets and rushed to a veterinary clinic.  Her tendons and bones were exposed, and she would need extensive medical treatment.  A fundraiser was started on her behalf and over $16,000 was donated.  She also found a new home.
Public defender Elizabeth Powers Price claimed her client has cared for dogs his entire life, but had been drinking that day.  She said he panicked after realizing what had happened and left his apparently beloved dog to die on the street.
"About the best defense you can put up about what you did on that day was that you were driving drunk," Verdin said. "It's just horrible."