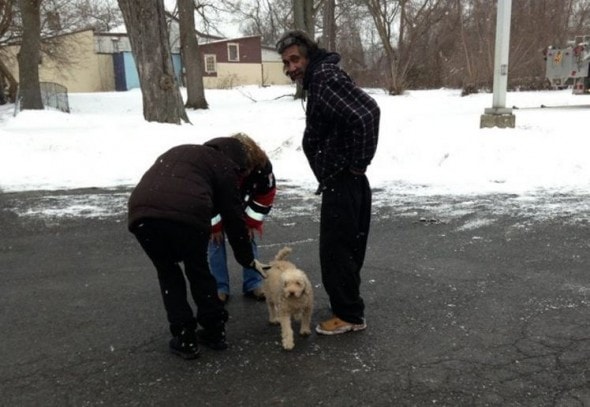 Source: syracuse.com
Rickie Rouselle was outside working on a car when fire broke out in his home in Syracuse.  He ran to the door and called for his dog Shelby but got no response, so he ran into the burning building to find him and bring him to safety.  Rouselle lost all of his possessions in the blaze that destroyed his home in 90 minutes, but he still has his beloved dog.
Shelby, a poodle, was uninjured but some of his fur was singed and he was traumatized.  Rouselle found Shelby sitting on the couch in a daze as smoke and flames surrounded him.  It was fortunate that the fire started in the back of the house or Shelby might not have made it out alive.  Rouselle and Shelby have been staying in a hotel for a few days courtesy of the Red Cross but now he has to leave the hotel and begin to rebuild his life.  He was renting the home and has no insurance on his possessions.
"He lost everything, absolutely everything," said his sister, Debbie Wright. "I'm not sure where he's going to be living."  Rouselle had lived with his mother until she passed away 12 years ago, and his sister helps him look after his affairs.  Wright says the house was insured but not the contents and she has no idea how long it will take before they can begin to rebuild.
For now, Rouselle needs a home and warm clothes and food for himself and Shelby.  Anyone interested in helping the pair get through this tragedy can contact Debbie Wright at 466-9825.