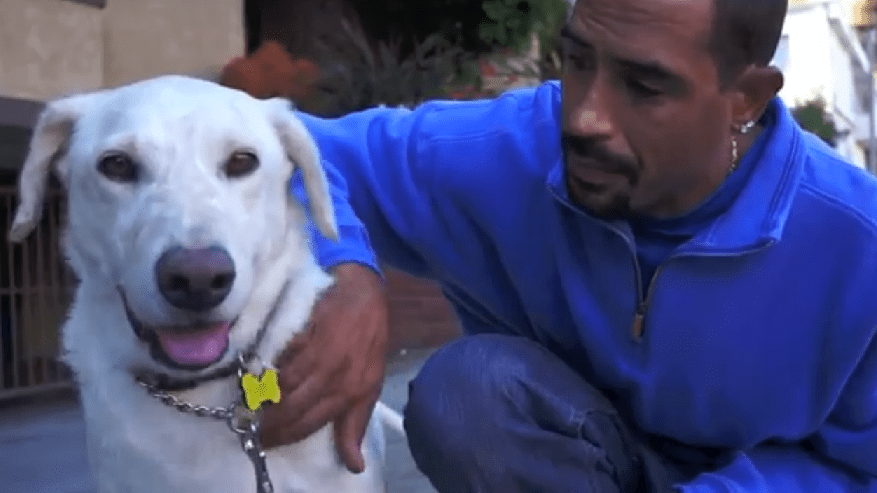 Caleb was left abandoned with no one to help him until Keith Allison came into his life. Thanks to Keith's effort Caleb has been saved. Now the Bill Foundation is asking for help for Keith.
For three weeks Caleb was provided with food and water thanks to Keith Allison. Caleb had been left abandoned by his owners and had been neglected for quite some time. He was too afraid to let Allison close to him, but Allison didn't give up on Caleb. Every day Allison came and gave Caleb food and fresh water. Since Caleb wouldn't let him close Allison started to look for someone to help him rescue Caleb.
In the beginning of the month Allison's need for help reached Annie Hart of The Bill Foundation, a Los Angeles based animal rescue. Hart came right away and worked with Keith to rescue Caleb. It was late at night and raining and Hart had to go to a bad neighborhood. Allison insisted on staying with Hart to keep her safe. The first attempt that night to capture Caleb was unsuccessful but the two agreed to meet again the next day and try again. The second attempt was a success and Caleb was safely rescued.
Allison continues to stay in contact with Caleb and has finally been able to touch the dog he had helped for so long. Hart now is hoping to help Allison. Allison has been out of work for a while. He has no car and a family and pets that he is struggling to support. Despite his difficult situation he reached out to help Caleb, not wanting anything in return. His community has recognized his efforts anyways and is hoping to raise funds so that he can have a car to get around in and a chance to get back on his feet and work again.
Allison has been forever changed by his rescue of Caleb says Hart and he hopes to continue helping animals. He has expressed an interest in being involved in more animal rescue work and Hart has said she will be the first to hire him to help with transport and rescue once he has the means. A chipin has been set up for Allison and all funds go directly to Allison's PayPal to help him and his family.