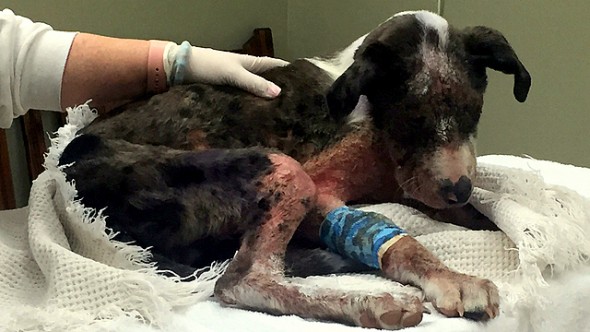 Zorro is only six months old, and he's already been through hell.  He's been suffering from hypothermia, mange, his lungs and skin are burned from the chemicals used to make methamphetamines, and he's going through withdrawal from the drug.  But he's getting tons of medical care and love, and now there's even better news for this little survivor.
The frail puppy was found barely clinging to life in a ditch by police in Bixby, Oklahoma.  It is believed that he was raised in a meth house before being abandoned.  His lungs have been chemically burned from breathing in the toxins, which then burned his skin when it seeped through his pores.  He was taken to Horizon Animal Hospital for emergency treatment.
"His eyelids are burned, his corneas are burned, his tongue is swollen and ulcerated," Dr. Cari McDonald told News on 6.   "I don't know if he swallowed it or inhaled it, but his whole intestinal track is burned."
In addition to being burned by the substance, he is also addicted to it.
"He's going through withdrawals, and his temperature is still pretty low," said Horizon practice manager Joleen Hansen.  "That's the fight we're having right now."
The clinic frequently takes dogs for the night by the Bixby Police Department, and an animal control officer arrives to collect them the next day.  But as soon as staff laid eyes on this miserable wretch, they knew they were going to keep him.
"There wasn't a dry eye in here, they were all in tears," McDonald explained.  "There was never a question of should we try to save him, it was 'We're saving him right?'"
Zorro's body temperature is only at about 90 degrees – 10 degrees below normal. It's so low that he can't even be given intravenous fluids, but he is receiving blood transfusions.  He's emaciated, but his tongue is badly burned, so he can't eat and will likely need a feeding tube.  He also has mange, and will need to be treated for that as well.
He was going through withdrawals, and was in pain, shaking, crying, and experiencing hallucinations.
Despite all of this, and while there's no guarantee at this point that Zorro will survive his ordeal, employees are doing everything they can to make him comfortable and to provide the best care possible for him to pull through.
A fundraiser was set up to help cover the costs of his extensive treatments, and was exceeded by thousands of dollars.  An update from Hansen was posted just minutes ago:
First off saying that I am overwhelmed by the love and support this sweet boy has received is an understatement. I never knew my pleas for prayers on his behalf would amount to so much love and support. THANK YOU SO MUCH to all of you who have donated! Whether it is money, food, blankets, or prayers and good thoughts. The phone rang so much today, it was wonderful. I am up at the clinic checking on our sweet fighter. He is not crying and biting at the air as much and is getting some rest. He received both bags of plasma, and is wanting to drink a little. His mouth is sore so it is hard for him too. I think because he can't see very well he is scared. We have been giving him stuffed animals to snuggle and that seems to help. I just took his temperature and it is still at 92.1. As soon as I get him to lay down I will wrap him in some of the blankets we received by donation. For those who don't know what our rescue does I thought I would give a brief summary. Our mission is to take animals just like Zorro (who would normally be euthanized due to their condition) and make them healthy and whole so that they can get into a forever home, and never ever be hurt again. This is our passion, where our hearts, and many times tears are. We can always use supplies such as cat litter, cat food, puppy food, dog food, toys, blankets and stuffed animals. I promise those who gave so generously today that if the funds are not all spent on him (and they all could be we don't know yet) they will spent on so many others in our care. If you are looking for a dog to adopt please come check out our other dogs and cats, many who started out just like poor Zorro. Again Thank you all so so very much. 
The staff at this clinic is so dedicated to the animals in their community that just days ago, they and their supporters successfully petitioned the city council to establish an animal shelter.  It won't be long before it's up and running.
If you would like to donate to this amazing facility so they can continue to save animals like Zorro, or are interested in giving a home to one of the wonderful dogs they currently have kenneled, visit Horizon Animal Heroes.