CAMP LEATHERNECK, Helmand province – Man's best friend has a long history of serving in military operations, and now the Marines of Military Working Dog Platoon, Military Police Support Company, II Marine Expeditionary Force Headquarters Group (Forward), can add their names and those of their dogs to the list.
The platoon wrapped up a seven-month deployment in support of operations in Helmand province, Afghanistan, in July.
For the Marines of the MWD Platoon, the missions that they and their canine partners undertook made the difference between life and death for many service members.
"We participated in a multitude of missions, successfully completing 71 improvised explosive device finds," said Master Sgt. Frank Ginn, the platoon's kennel master. "This is a new record high for our platoon during a deployment."
In addition to the IED finds, the dog handlers also completed several human tracking missions.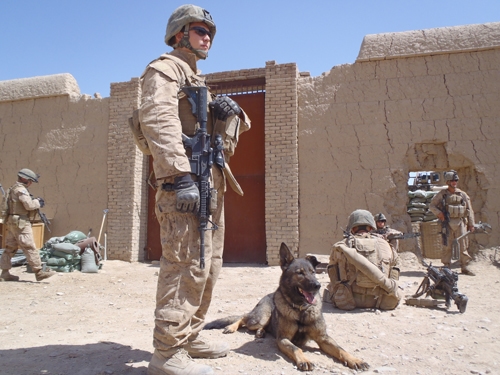 "The platoon participated in 14 person searches, which resulted in five insurgent captures," said Ginn. "In comparison, when we were here in 2009, we had only three insurgent captures during our deployment."
The successes came at a cost. The Marines and their dogs faced danger every time they set foot outside the wire.
"Four of our platoon members got purple hearts during this deployment," said Ginn. "But all our guys survived and have all their limbs. We're extremely grateful for that."
Their four-legged partners were not so lucky. Two military working dogs were killed in action during the platoon's tour.
"Both dogs were killed locating IEDs and keeping their teams safe," said Ginn. They died doing their job."
Several of the MWD platoon have been recognized for their bravery in combat. Staff Sgt. Charles Rotenberry, assistant kennel master and chief trainer for the MWD platoon and a native of Newark, Del., helped save the life of a wounded Marine during a company-sized operation.
"I applied a tourniquet for an IED victim who had severe injuries to both legs," he said. "I aided a corpsman in stabilizing the victim and helped carry him to the medevac."
Rotenberry said his actions are part of a larger team effort that he and his fellow handlers have made.
"I usually go out on missions to assess how our working dogs are being used," said Rotenberry. "But some of our guys have been out on over 800 missions during this deployment."
Lance Cpl. David Pond, a handler with the MWD platoon, and a South Westminster, Colo., native, also helped save the life of a fellow Marine.
"Once we had stabilized the IED victim, I helped secure the landing zone and cleared it of other IED threats with my working dog so the airlift medevac could land," he said. "When something like that happens, you do what you have to and carry on with the mission."
Capt. Mark Bailey, the commanding officer of Military Police Support Company, II MHG, II MEF, and a Cleveland, Ga., native, said he is very impressed with the quality of leadership the MWD platoon had during their deployment.
"My non-commissioned officers are absolute professionals, who mentored the platoon into a hard working team that goes the extra mile," said Bailey. "Ginn and Rotenberry are both highly motivated dog handlers who have a lot of experience and years of training."
One factor that contributed to the success of the deployment was the specialized training the MWD handlers got from Ginn.
"Ginn has deployed here before and knew there were things his handlers needed to train specifically for their missions out here," said Bailey. "Their intensified training definitely paid off with the successes the handlers had in the field."
For the Marines of the MWD platoon the mission has come first during their deployment. As the platoon returns to life at Marine Corps Base, Camp Lejeune, N.C., many are grateful for the mission successes and the safe return of everyone in the unit.
"Everyone out here has a lot of courage, from the dog handlers to the combat engineers we go on patrols with," said Rotenberry.
"We're just proud to be part of an effort that has so many committed individuals who put the mission before all else."