Remember back in the day when Beyoncé had a perm?  It was right after she starred as Foxxy Cleopatra in Austin Powers in Goldmember.  Well, one mom took her daughter's dog in to be groomed, and had his lettuce chopped to slightly resemble a shorter Beyoncé perm, and now because of the daughter's "indignant" tweet about it, he's become Twitter famous.
Lindsay Martin took to Twitter to claim that her mom "ruined" her dog Wembley by getting him completely shaved, save for the tuft of tight spiral curls.  The tweet was shared thousands of times, making its way into various news sources who say that he now looks like Justin Timberlake circa his ramen noodle hair days.
"My dog and I would appreciate positive feedback only during this emotional time," she jokingly commented.
There are a number of other celebrities whose coifs his hair has been compared to, including Guy Fieri, Meg Ryan, and New York Giants wide receiver Odell Beckham Jr. – and the resemblance is strong with this one!
Martin isn't really distraught about Wembley's appearance at all, and is hoping that his sudden popularity will land them a spot on Ellen.
"It was funny & I'm not actually upset about it.  There are worse things in the world and his hair will grow back."
But fame comes at a cost, of course, and many people have commented that his haircut is abuse, and that he will freeze outside, etc.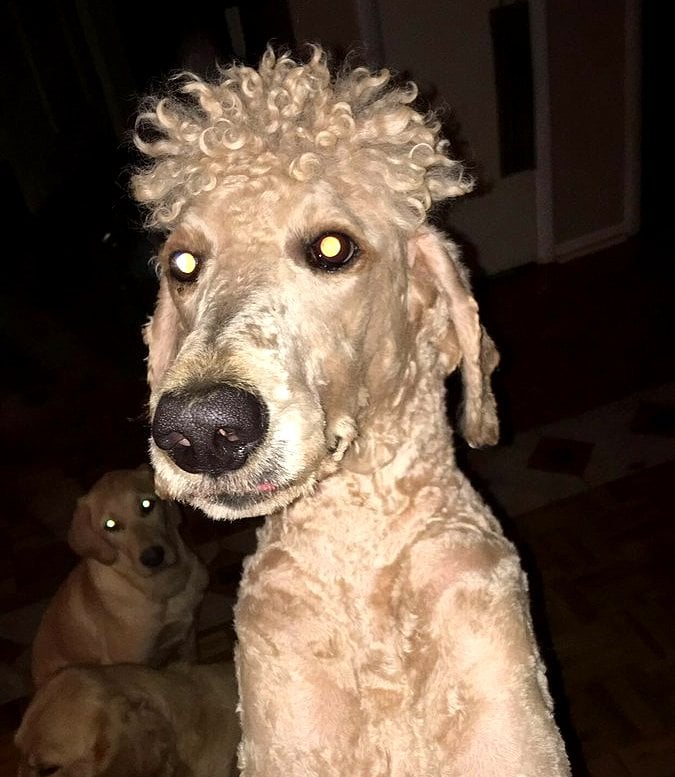 "He has a sweater and we don't leave our dogs outside, calm down," Martin tweeted.  "It is also not abuse to give a dog a haircut, our dogs are treated like royalty."
Wembley seems to be taking it all in stride.  But with a modish mop like that, how could this poodle not be?