In September 2011, after the sudden and unexpected loss of their beloved Newfoundland, Gus, Kathy Hickey and her boyfriend, Ryan Henderlong, were left with a 175 pound hole in their lives. As lovers of big dogs, they decided to adopt a giant breed through Big Dogs Huge Paws (BDHP), a rescue they found near their house in Colorado. After looking through the available dogs, they decided on an 18-month old Mastiff and sent in their adoption application. Sitting at her computer, Kathy continued to look through the rescue site and a thumbnail image of an older nine-and-a-half year-old Fila Brasilero, Mugsy, caught her eye.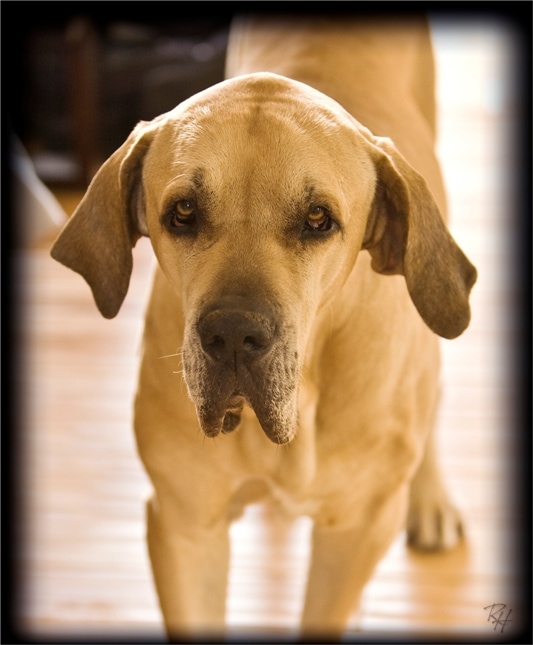 Mugsy's owner had passed away and needed someone to take a chance on an old, giant dog in his retirement. BDHP told Kathy and Ryan he had pretty bad arthritis but, overall, seemed to be in great health. After the previous owner passed away in Texas, the family surrendered him to a shelter where he was adopted out for a short period to people who starved him. When he was rescued by BDHP, he weighed only 90 pounds. Mugsy was transported to the adoption center in Colorado, where a foster family took great care of him and helped in gain 20 pounds. Needless to say, Mugsy came home to Kathy and Ryan two weeks later in late November. From the first day he joined their family, Kathy and Ryan say Mugsy was a sweet, loving, protective dog. Within a few weeks' time, when he realized that he was at home and Kathy and Ryan were "Mom" and "Dad," he became more and more playful and affectionate towards them — a "truly a happy guy."
A month later, Kathy and Ryan submitted the story to Fetch! Pet Care's "Rescue Who Rescued Me" Facebook search in hopes of donating 10,000 meals from Freekibble.com to Mugsy's adoption center, Big Dogs Big Paws. Said Kathy, "Mugsy was the sweetest, most gentile, soulful dog we've ever met. It is as if he had been with us forever. He was in great health, but with an average life of 9-11 years, we knew he might be with us for a few months or several years. Either way, we rescued each other and are thankful for the time that we will have together."
With 5,204 votes, Mugsy won the Fetch! search but, in a twist of fate, the celebration came with a heavy heart and tear-filled eyes. A day later, Kathy and Ryan let their Fetch! Facebook community know that, a day after winning the contest, they had to say good-bye to the latest addition to their family, their "snuggly cuddly 'winner' Mugsydog."
As Kathy and Ryan explained to their Fetch! fans in the form of a eulogy, Mugsy started limping slightly and showed some pain in his front right leg in December 2011. They took him to a local vet, who said he probably sprained it or twisted it wrong, and gave him some pain medication. When those ran out, the owners took him back, where the vet refilled the medication and said to give him time. When things were not improving, it became was clear to Kathy and Ryan that something more serious was wrong with Mugsy and received a second opinion. Unfortunately, the issue was not a sprain.
When Kathy and Ryan reviewed the x-rays with the doctor, they were disturbed. First, Mugsy was peppered with shotgun bb's. Also, he had experienced some sort of trauma and had possibly been hit by a car, as there was damage to his sternum and the three bones of his back ankle appeared to be fused together. However, the worst part of all was a large dark spot on his front right shoulder. It was unmistakably osteosarcoma, which was bone cancer. It was very advanced, and doctor's concern was that the bone could fracture at any time with the size of the legion, even spontaneously while sitting on the couch. If that happened, nothing could be done, as the bone could not be repaired and basically shatters from the inside out. The only possible cure for osteosarcoma was amputation of the leg and chemotherapy to try and prevent it from spreading to the lungs.
Kathy and Ryan had an appointment the week of his passing to speak to an oncologist, but with Mugsy past his life expectancy and being a 120 pound giant breed dog with severe arthritis in all four limbs, he was clearly not a candidate. All they could do was keep him comfortable and on pain medication until the inevitable happened. As they left the vet, they decided to let him go if he showed pain rather than dragging out the situation. The oncologist's prognosis was two months maximum if the bone didn't fracture. Mugsy made it five days.
On a Saturday morning, Kathy woke up and spooned her beloved new dog, saying "Mugs, you let us know when you are ready and will make the pain go away. I don't want you to hurt." A
few hours later, Kathy took him out for a walk in the snow, as Mugsy loved the snow. While walking through a snow drift eating as much fresh snow as possible, Kathy saw him struggle to take steps. When he came out of the drift, he held his paw up, looked at Kathy, and hopped on 3-legs into the house where he immediately lied on the floor. Kathy knew what had happened and called Ryan and their friend Annie down to cry together. They cuddled and snuggled their "sweet loving Mugsydog" as long as they could until he started to cry and show them his pain. Then Kathy and Ryan made the decision to take him to an emergency hospital in Boulder.
Kathy and Ryan wanted a certified radiologist to confirm his diagnosis of bone cancer and to see if he had, in fact, fractured the bone, or maybe just twisted his leg wrong. They confirmed the cancer… and the fracture. It was indisputable. Even with all the pain medication – he was currently on and a high dose of morphine upon arrival – Mugsy was in severe pain that could not be fixed. At about 7:45 that night, less than twenty-four hours after he won the Fetch! Pet Care contest and donated 10,000 meals for his friends at Big Dogs, Kathy and Ryan snuggled with him on the floor and said good-bye to their new best friend. It was painful, but they promised him they would not selfishly keep him alive if he was in pain. Said Kathy, "We know he is in a better place, romping around with Gus."
Added Ryan, "Mugsy showed us so many things. He opened our eyes to the number of senior dogs out there that need love. He introduced us to Big Dogs Huge Paws. He gave us so much happiness and joy these last two months, and I wouldn't trade it for the world. We will continue to adopt senior rescued dogs and vowed this time not to wait two months. Thank you everyone for your support in the Fetch! contest and for your adoration of our dear sweet, Mugsy. May he rest in peace."