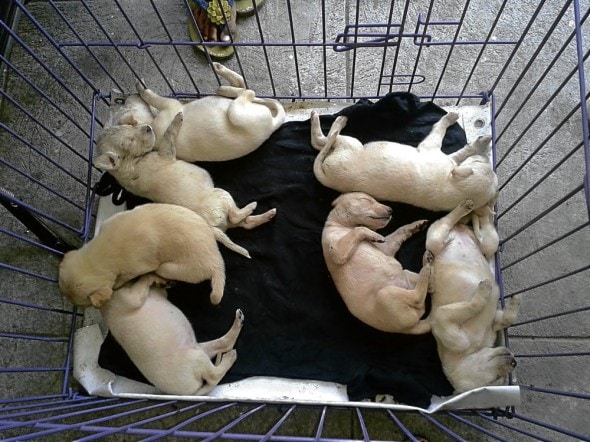 Sometimes we don't know what we care the most about until we are about to lose it, and when Carla Castro found out that a huge fire was about to consume her home only two things were on her mind.  Her daughter and her dogs.  Fortunately her daughter was safely out of the house, but the dogs were not.
Castro, who is a Barangay village councilor in the Philippines, was not at home when the fire broke out in a slum area on Saturday evening.  It was her neighbour Teresita Mendoza, who alerted her to the blaze and when she realized the dogs were in the house, had to act.  She said that Nikki, who had recently given birth to 7 pups came up to her with pleading eyes and so Castro said she had no choice but to get them.
"I love dogs so much. They once saved my life during a fight. Trudis [one of her dogs] protected me when somebody tried to hurt me," Mendoza said.  She is so grateful to her dogs that she feeds them no table scraps as is common in poor areas, instead she cooks them rice and chicken livers though she has little money.  Castro lost all of her material possessions in the fire but thanks to Mendoza still has what is most important.
The fire destroyed 63 houses and 10 commercial structures, said Zenaida Asor, a worker of the Department of Social Welfare and Development.  Thankfully only one person suffered injuries.  The puppies are fine, completely oblivious to the danger they were in, and Nikki is relieved to be with her babies.