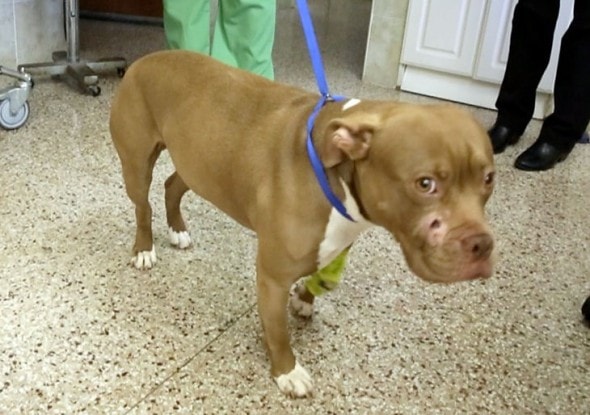 Dallas McGarrigle and Shawn Kemple were driving on Route 9 in New Jersey when they spotted an injured pit bull along the side of the road. They thought it had been hit by a car, but the dog had actually been shot in the face.
McGarrigle and her boyfriend, Kemple, were driving home from lunch last week when they spotted the pit bull limping by the side of the road. He was covered in blood and they pulled over to help, thinking the dog had been hit by a car.
"Shawn looked at me and said, 'We have to get him. Follow that dog. We're bringing him in the car to help,'" said McGarrigle.
They pulled over and called to the dog, which responded and climbed in their car.
"He was wagging his tail," said Kemple. "We could see that he was a sweet dog, but he was really hurt."
They brought the dog to Stafford Veterinary Hospital, where he is recovering from a gunshot wound. Doctors believe the dog, which they've named Boss, was shot days before McGarrigle and Kemple found him.
"He had a penetrating wound on the right side of his muzzle that was actively bleeding when he came in," said Dr. Michael Pride. "There was blood splattered around his body and he was limping on his hind leg, but he was wagging his tail when he came in."
X-rays revealed a bullet in his neck and bullet fragments and his stomach that Dr. Pride believes broke up in his mouth and he swallowed.
"Typically, you can find exit wounds somewhere, but we couldn't find it because it was still lodged," said Dr. Pride. "Someone probably shot him from somewhat close range. The direction of the bullet path was down at an angle and toward him."
No owners for the dog have been found, but the New Jersey SPCA is investigating the case. Anyone with tips or information should contact the Burlington County SPCA at 609-914-4255.
Boss still has a lot of recovering to do. He has just started to eat again and will possibly need multiple surgeries. Stafford Animal Hospital has set up an account for donations to be made to help with Boss' care. All costs so far have been paid for by the hospital, but they continue to rise.
McGarrigle and Kemple have donated what they can to help with Boss' care and have offered to give Boss a home once he is recovered.