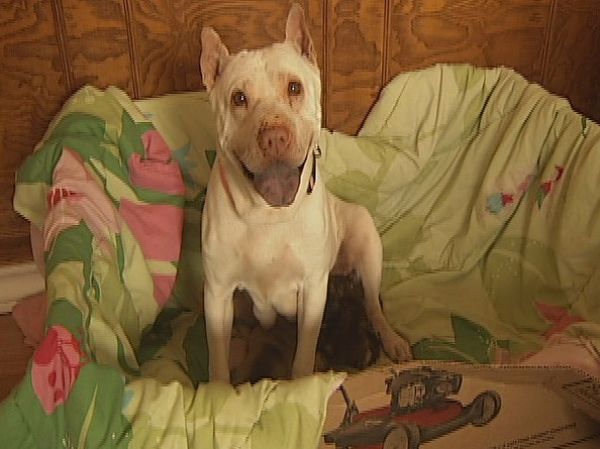 Last Sunday, Lubbock, Texas resident Shannon Torrez's dog Asia gave birth to a single puppy, named Raider. But the mother of one soon became a mother of four when she adopted three kittens.
"I got a call from a friend of mine that three kittens had been dropped off on her front porch in a little bucket and she didn't know what to do with them. I went and picked them up, figuring I was going to have to bottle feed them for a little while before adopting them," Shannon said. "When I got home Asia was kind of throwing a fit that I had the kittens and she wanted to see them. I put them up to her and she didn't want to me to get them out of her sight."
The Shar Pei-pit bull mix insisted on taking over motherly duties – she cleaned, nursed and protected them.
"The first couple of days she wouldn't leave their side at all. It took her a few days for them to get settled in and for her to get comfortable before she would even leave the box," Shannon said.
You don't see stories like this every day, but veterinarian Lane Preston of the Animal Medical Center in Lubbock calls it a common occurrence, and it can happen when female dogs go through a heat cycle. The dog's body can be tricked into thinking she is having puppies and produces milk.
"She goes ahead and adopts those kittens as her own even though they're not hers," Dr. Preston said. "They don't smell like dogs but the urge to mother and nurse is greater than all of those things."
He says dogs can have health problems if they lactate and have no puppies to nurse, so being a surrogate mother is recommended if unnecessary milk is produced.
"There are times when we have to tell the people, do you know of anybody that has some puppies or has some kittens that you could put on this mom to her out a little bit?"
The kittens, two girls and one boy, named Jade, Jewel and Gunnar, are almost a month old. Asia will get to take care of them for about another month, until they are ready to be adopted.
"I honestly thought she would take them in, you know clean them, keep them warm at least, but that I was going to feed them because she is much bigger than they are. But no, they got the hang of it and she has no problem with them," Shannon said.
WFSB 3 Connecticut