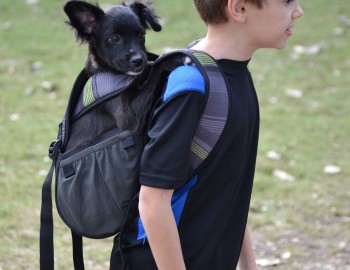 A dog and his owner going places together is a key part of any lifelong friendship.  The bonds it helps to create between them is important for many reasons.  Sometimes, due to an injury or even just getting on in years, our dogs aren't always able to get around with us so easily.  That's why the Ruffit Dog Carrier has been invented, to help foster that bond long into the future lives of our pets.
The idea for the Ruffit came from Jonathan Rivera.  One day, while he and his dog Mojo were out getting some exercise together, Mojo accidentally stepped on a shard of glass, and needed to be rushed to the vet's immediately.
At the vet's office, Jonathan was told that Mojo's cut would heal just fine, but there was a different problem going on.  It was discovered that Mojo had some serious hip problems, and it would start affecting his ability to walk within the month.
This is when Jonathan decided to get a hold of his brother Jesse, who is an engineer and also a dog lover.  This is when the two of them came up with the idea for the Ruffit Dog Carrier.
The design is very simple and easy to use.  In fact, it's like a smaller version of a doggie backpack, but with adjustable shoulder straps for the human, and straps to keep your dog safely in place as well.  Inside the Ruffit your dog simply sits, and goes along with you.
"They are sitting down on their haunches (and) their little feet are tucked up under them," Rivera said.  "Their paws rest on the shoulder of the rider or walker, and their head is free to look around and enjoy the ride."
The Ruffit will come in extra small, small medium and large and also have a slim and a regular width.  The total weight capacity will be about 30 pounds.
Right now, the Ruffit is only available online.  If you're looking for more information or wish to order one, check out their website by clicking here.