A nine-year-old boy in the Philippines has become a savior to the many stray dogs and cats around his home.  He has been dreaming of opening a grand shelter for all of them someday, but never knew that day would come so fast.  He started a shelter in his garage, and now is leasing a space big enough to help more animals in need.
Ken has enjoyed helping the street animals in his neighborhood for a long time.  He spends time with them and feeds them, but has been hoping to be able to do more.  He has been dreaming of having enough money to open a non-profit, no-kill shelter to really help them.
A few months ago, some pictures of Ken and three strays surfaced on the internet, touching hearts worldwide.  People began sending in donations to the ambitious boy to help him accomplish his goal.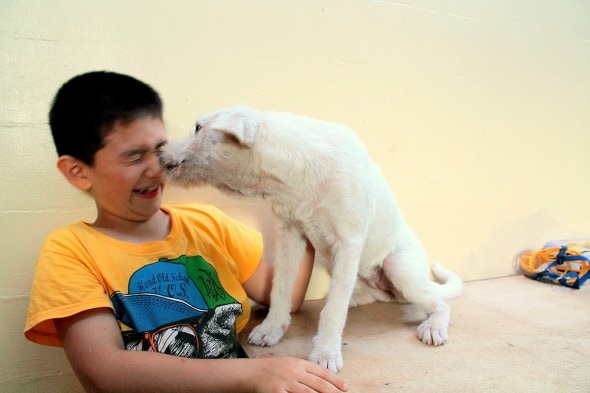 "We got enough money to get the dogs I was feeding off the street, feed them high quality canned food, and provide them with veterinary care," Ken said on his website (with the help of his father).  "They gained a LOT of weight, their open wounds healed, and their fur grew back. They also learned not to be scared of humans."
He and his father built a temporary shelter in their garage for the three pups, named Brownie, Blackie, and White Puppy.  Ken decided to call it the Happy Animals Club.
"Happy Animals Club's main goal will be to rescue dogs from the city pound. In this article dated March 20, 2014, the official at the pound said most dogs are put down because only 20-30% of owners claim their dogs, and no animal welfare organization is doing something about it."
So now Ken is.
"I got enough money to start an animal shelter. On May 1, 2014, I leased a 1,000 square meter (10,000 square feet) lot for one year. It cost 66,000 pesos ($1,500). I don't have enough money yet to populate the shelter with dogs but hopefully I can do that soon."
"The next step will be to raise enough money to care for as many dogs as possible. Also, we need to make a system for finding the dogs good homes when they are ready. This is a big challenge because in the Philippines most people want pure breed dogs. They don't like mutts, even though mutts are just as smart, just as loyal, and just as loving."
For more information about the Happy Animals Club, please click here.  On the site there is a link to donate, but at the time of this publication the link was broken. We will continue to check the site and will have an update if the link is fixed.