This is a tale that brought outpourings of support and concern, galvanized a team of staff, board members and volunteers, brought 20 endangered golden retrievers and other canines from North Carolina to safety and care—all in the course of two hectic, grueling days. It was, for Delaware Valley Golden Retriever Rescue (DVGRR), part of a normal week.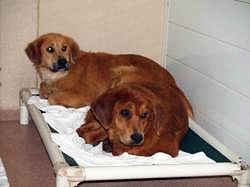 "When we arrived at the office last Wednesday morning and logged on to our computers, the incoming email sounded like the bells of Westminster ringing," says Robin Adams, executive director and cofounder of DVGRR. "Hundreds of messages were pouring in about the perilous future awaiting 20 Golden Retrievers in North Carolina. Dog-lovers knew we might be in a position to help."
Six retrievers in a shelter were scheduled to be euthanized in mere days. Another 17 dogs were living in a house in conditions described as "pretty frightful." DVGRR's response was immediate: "We said we'd take them all," says Adams.
Within hours, four vans were rented, eight drivers were recruited and every available or borrowed animal crate was loaded, all in preparation for a 4:00 a.m. departure the next morning. By noon, the DVGRR team had arrived to begin a very challenging rescue.
"We discovered that not all the dogs in need of help were Goldens," according to Adams. "Apparently, the dogs at the house were allowed to interbreed over the years, so some were mixed. While our mission is specifically to rescue Golden Retrievers, we couldn't leave the other dogs behind knowing their fate."
While circumstances meant that only 20 of the 23 dogs could be rescued, DVGRR has coordinated with a rescue in New York that will shelter the mixed breeds. DVGRR will provide veterinary care for all of the "North Carolina 20," both Goldens and mixes. "The dogs who had probably spent their entire lives sleeping on dirt and eating scraps are now in warm kennels with clean bedding and fresh water," Adams adds. "They will be fed healthy food and, most importantly, will receive human care and affection."
"Our major issue now is financial," says Adams. "The cost of this rescue was formidable, and the health challenges and veterinary needs of these dogs will be huge." She requests that anyone interested in donating to assist the North Carolina rescue dogs visit http://dvgrr.org/donate or call (717) 484-4799.