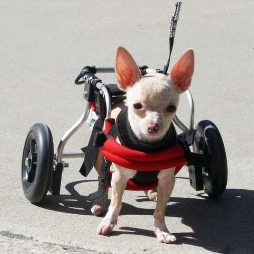 Daphne the Chihuahua runs, plays in the grass, and even ignores her owner at times to run off in pursuit of objects of interest. Daphne doesn't seem to notice that she is not like other dogs – she's just going about her life and finding happiness.  She is a cheery little dog, and for the first time in over a year she is able to wag her tail to show the world how great she feels.
Daphne was paralyzed in an accident in 2009. She was taken to a California animal shelter with a broken back after being struck by part of a falling fence. She was unable to walk or control her bladder.  Brenda Southerland of HOPE Small Animal Rescue took Daphne in to care for her while a permanent home was sought.
.
Daphne found her new home when Angie Flores, who works at Abby's Dog and Cat spa in Modesto became a temporary caretaker for the paralyzed pooch. Flores fell in love decided to adopt her. A community fund drive eventually raised enough funds for a custom wheelchair. Now Daphne is on the roll, and to watch her, one would think she was born with that wheelchair permanently attached.
"When people see her I say 'don't feel sorry for her, because she's happy,'" Flores said.