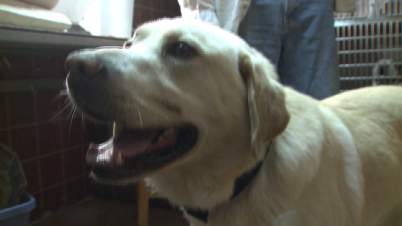 The last year and some change has been bad news and worse news for the Sanders family, whose dog Phineas was seized and sentenced to death because of a lying family and a power-hungry mayor. But justice has prevailed, the appeal has been won and Phineas has been exonerated.
Today is a happy news day for dog lovers, but the story is not over yet. Just before a hearing to determine whether Phineas was actually guilty of biting the little girl whose family fought to have him executed, the dog mysteriously vanished from the Dent County Veterinary Clinic, where he was being held until final decisions were made.
Phineas' whereabouts are currently unknown, but an anonymous letter was sent to the Sanders', indicating that he had been stolen by supporters and is being safely cared for, likely until a verdict was made in his favor. Now the family must play the waiting game, hoping that their dog is indeed in good hands.
Earlier this year, Judge Scott Bernstein upheld Salem, Missouri Mayor Gary Brown's decision to have the dog euthanized, based solely on the fictitious testimony of the girl's mother, who claimed Phineas had bitten her daughter twice before. She later recanted her story.
Thousands of supporters made their feeling about Salem known, likening it to the Salem, Massachusetts witch trials. Billboards were put up along Interstate 44 with Phineas' photo and the caption, "Don't let Salem, MO kill me."
In the latest hearing, forensic and canine dental experts testified that based on the size of the bite mark on the girl's abdomen, there was no way Phineas could have been responsible. The canine teeth indentations were missing, and the overall shape and size appeared to have been a "primate bite," according to Dr. JJ Tune. Unless the girl was, unbeknownst to her family, playing with chimpanzees, a human bit her and made Phineas the scapegoat.
Mayor Brown had no problem with Phineas' disappearance or death sentence, and was relieved that he was missing.
"I'm glad the dog is lost, I'll be truthful with you," he said.
He stated that if the dog returned, he would recommend that the city not appeal the order. It is no wonder that "Phineas for mayor" bumper stickers have cropped up.
Judge Bernstein did not agree, and reversed his ruling based on the expert testimony and fluctuating scenarios given by the girl and her mother, who had not even been present when the alleged attack occurred. He wrote that it would be "a manifest injustice" if Phineas was executed, and ordered him to be returned to his family.
"We're happy with the ruling," attorney Joe Simon said. "Obviously, it's a bitter victory unless Phineas is found."
Paws crossed that he turns up alive and well!
For the complete story, please visit:
Urgent: Please Help Save Phineas
Bite Mark Analysis May Exonerate Phineas
Where Is Phineas? Disputed Dog Goes Missing