The power of social media amazes us every day. Thanks to Facebook and thousands of people who shared the image of two scared dogs hugging behind shelter cage bars, the dogs who were hours away from being euthanized, were saved.
Kala and Keira found themselves out of time inside a Georgia shelter. Volunteers captured a heart wrenching image of the two mixed breed dogs hugging just hours away from their death sentence. The image was posted on Facebook along a touching story to see if the dogs would find someone who would want to save them, and just two hours and six minutes later, the two dogs were saved.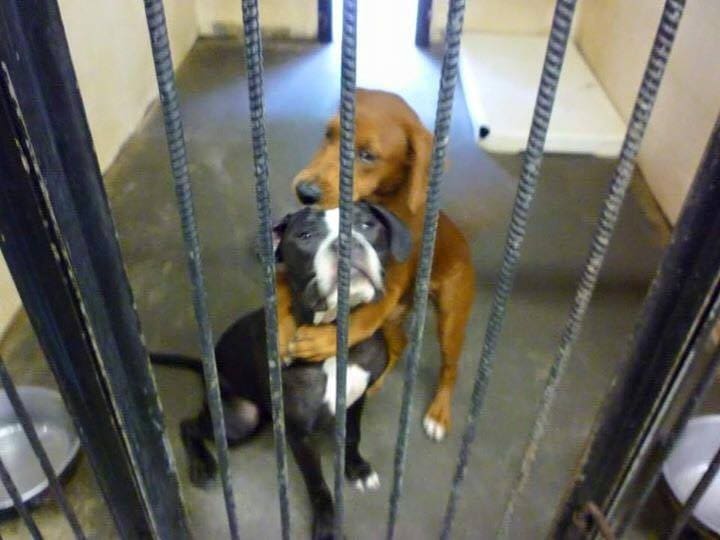 The story attached to their image read:
I'm Kala. This is Keira. We're so scared in here. The people working in the shelters see how scared we are but just told each other that today is our deadline. We have to have someone rescue us or we'll be "next." Keira is black and not a "real boxer," just a mix. She's so brave and tells me it will be okay no matter what happens. She tells me to be brave too but I don't know if I can be. Can you see our faces. Keira knows what will happen. You can see it in her eyes. She's putting on a brave face for sure but I can feel her heart beating fast while I'm clinging to her. If no one saves us, someone will take her away from me. I'll see her as she goes down the hallway. She won't come back and I'll cry. They'll come for me next and I won't be as brave. We've comforted each other while we were here. She gave me hope when I had none. Now it's over.
The image went viral and Angels Among Us Pet Rescue (AAUPT) stepped up to save the pair. Hours later they posted a photo update with the following message:
THEY ARE SAFE!!! There are no words to tell you how happy we are that these two best friends are safe and together! Thank you for your shares, donations and offers! Just look at these two!!! This is why we rescue.
To donate to Kala and Keira's care you can make an online donation. If you are interested in fostering them or other dogs in need with AAUPT, fill out a foster application here. To adopt the pair, please visit http://www.angelsrescue.org/adopt.