A two-year-old pit bull named Moo Moo is being hailed a hero for waking her family when their Chicago home went up in flames.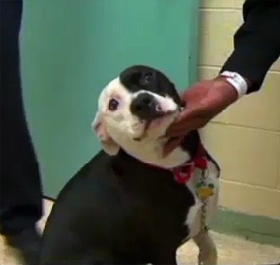 An electrical fire is blamed for the blaze that quickly spread through Diane Walkers south side home.
"It was about 4:30 in the morning, we were all sleeping," says Walker. All except Moo Moo. The loyal family pet smelled smoke and knew something was amiss.
"She pushed my door open, got on my bed and started licking me and I was wondering what she was doing," said Diane's grandson, Josiah Walker. "And I was asking her 'Moo-Moo what are you doing? What are you doing?"
Josiah realized exactly what Moo Moo was doing when he smelled the smoke. She was warning her family of impending danger. Josiah yelled to wake Diane. "I heard him screaming 'fire' and we all jumped up and ran outside," she said.
While the Walkers pick up the pieces and search for new accommodations, the Animal Welfare League has offered to take in Moo-Moo free of charge. "I didn't have to worry about anything after that," says Walker.
Losing their home was admittedly tragic, but Diane Walker says she takes comfort in the fact that everyone escaped unhurt. She firmly believes her family would have perished were it not for their four legged hero. "She's a wonderful dog and she saved us. She saved us," says Walker.