While many have caught on about pit bull myths and facts, there will always be people who refuse to distinguish truth from media hype.  We may have missed Pit Bull Awareness Month, but we never miss an opportunity to help the public learn and love more about pit bulls.  So have a read, share this article with others, and share your pibble tales with us!

"The overwhelming majority of pits and pit mixes are sweet goofballs," the ASPCA writes on their blog.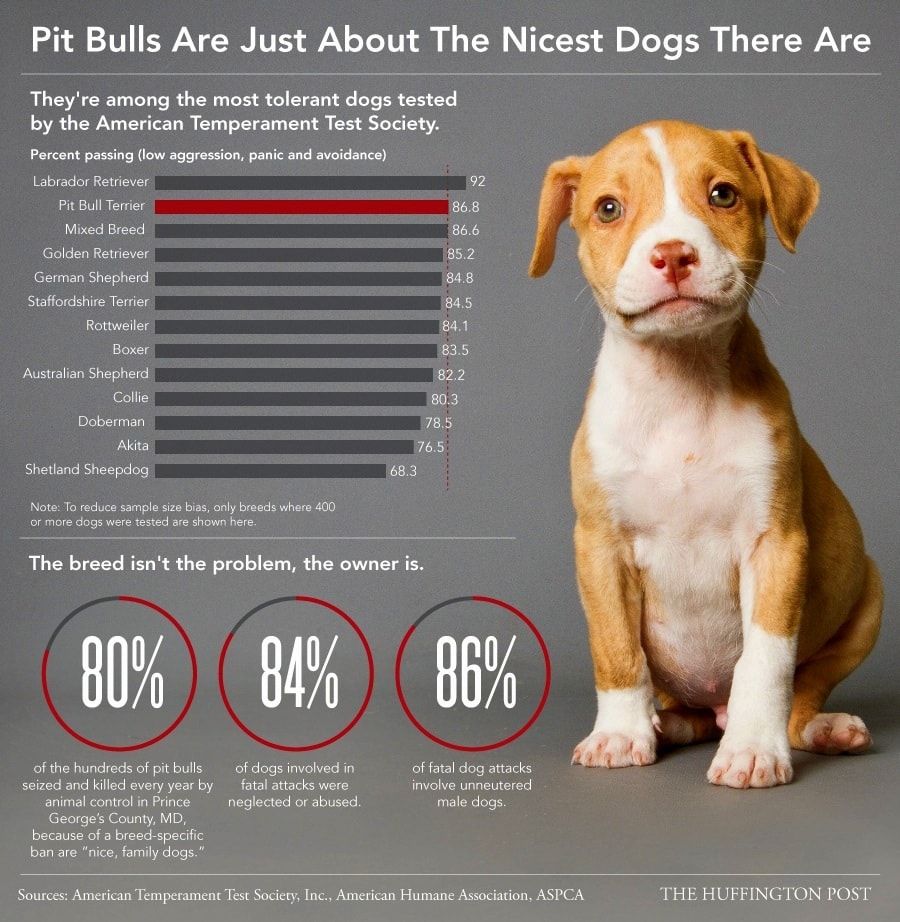 Bred to Love: The Truth About Pit Bull Terriers (courtesy of the SPCA Serving Erie County)
Dispelling Common Myths About Pit Bull Terriers
MYTH:
The pit bull terrier is the breed most likely to bite.
TRUTH:
NO! According to the American Temperament Test Society, in 2012, 86.8% of American Pit Bull Terriers passed society tests that measure stability, aggressiveness, friendliness, and protectiveness. 85.2% of golden retrievers and 80.1% of collies passed these tests.
MYTH:
Pit bull terriers bite or attack more than any other breed of dog.
TRUTH:
NO! Despite all the studies on dog bites, the American Veterinary Medical Association has found that no single breed is more dangerous than another. Rather, studies show the most popular breeds at any given time tend to top the list because there are more of those dogs in the general population.
Source
MYTH:
Pit bull terriers have locking jaws.
TRUTH:
NO! According to Dr. I. Lehr Brisbin, Ph.D., senior research scientist at the University of Georgia and an expert in training, handling, behavior, and the anatomy of bull dog breeds, "The few studies which have been conducted of the structure of the skulls, mandibles, and teeth of [American Pit Bull Terriers] show that, in proportion to their size, their jaw structure and thus its inferred functional morphology, is no different than that of any [other] breed of dog. There is absolutely no evidence for the existence of any kind of 'locking mechanism' unique to the structure of the jaw and/or teeth of the American Pit Bull Terrier."
Source: American Dog Breeders Association
MYTH:
Pit bull terriers have more bite pressure than any other breed.
TRUTH:
NO! According to Dr. Brisbin (referenced above), "To the best of our knowledge, there are no published scientific studies that would allow any meaningful comparison to be made of the biting power of various breeds of dogs. All figures describing biting power in such terms can be traced to unfounded rumor."
Here are a few other facts, courtesy of Pit Sisters:
• According to the Humane Society of the United States, pit bulls are the "most abused, misunderstood dog breed," comprising an estimated 70% of dogs housed and euthanized in urban animal shelters (HSUS).
• Pit bulls were known in the early 1900s as "nanny dogs" because they were tolerant and gentle with children. Helen Keller's dog, "Sir Thomas" was a pit bull, and so was "Petey," the canine mascot of the Little Rascals (Yahoo! News).
• "Pit bull" isn't a breed; it's a label used to describe multiple breeds including the American Pit Bull Terrier, American Staffordshire Terrier, Bull Terrier, Staffordshire Bull Terrier, and American Bulldog (ASPCA).
• Breed-specific policies (including shelter euthanasia) and legislation (bans) focus on a dog's looks, rather than its actual breed (as determined by a DNA test). People generally misidentify a dog's breed 75% of the time (Denver Post). (Would you know a pit bull if you saw one? Play Find the Pit Bull.)
• Boxers, bullmastiffs, and bulldogs are commonly mistaken for pit bulls (ASPCA).
• Pit bull bites draw more media attention than bites by other breeds. In a four-day study of dog-bite reportage, the National Canine Research Council found an anti-pit bull media bias. Each of three separate fatal attacks by non-pit bull breeds was mentioned only once or twice in local papers. Comparatively, one non-fatal pit bull attack was covered over 230 times in national and international newspapers, and on major television networks including CNN, MSNBC and FOX (ASPCA).
• A study by Dr. Brady Barr of National Geographic found the bite pressure (PSI) of a pit bull is less than that of a German Shepherd or Rottweiler (The Pit Bull Placebo).
• As terriers, pit bulls bite and hold, whereas other breeds bite and release repeatedly. Dog fighters created bite sticks to disengage pit bulls quickly and efficiently. These sticks are ineffective and dangerous when used with other breeds that snap erratically (Pit Bull Rescue Center).
• Nearly 50 dogs from Michael Vick's "Bad Newz Kennels" were released to sanctuaries to be rehabilitated. Despite abuse and torture, many have been successfully adopted (NPR).
Here are some fun facts – they are unsubstantiated by experts, but pibble parents can attest to these truths:
Pit bulls are born sweethearts, but early socialization and training is key if they are to have any manners. 
They weren't bred to fight each other, but they are terriers, which means they like to dig and hunt for rodents and other small creatures.

They are smarter than people give them credit for. Puppies can be finished paper training by 4-5 months. 
Pit bulls help ease depression and anxiety.

They are loyal, and will do anything to be loved and given attention.
Every pit bull is different when it comes to water. Some could happily live in a lake chasing ducks, while others refuse to go outside and get their tootsies wet if it's sprinkling.
Pit bulls have some of the most expressive faces of all dogs.  You will always know what your dog is thinking, because it will be written on his face.

Some have limitless energy, and others are couch potatoes, but generally they're just happy to be doing whatever you're doing.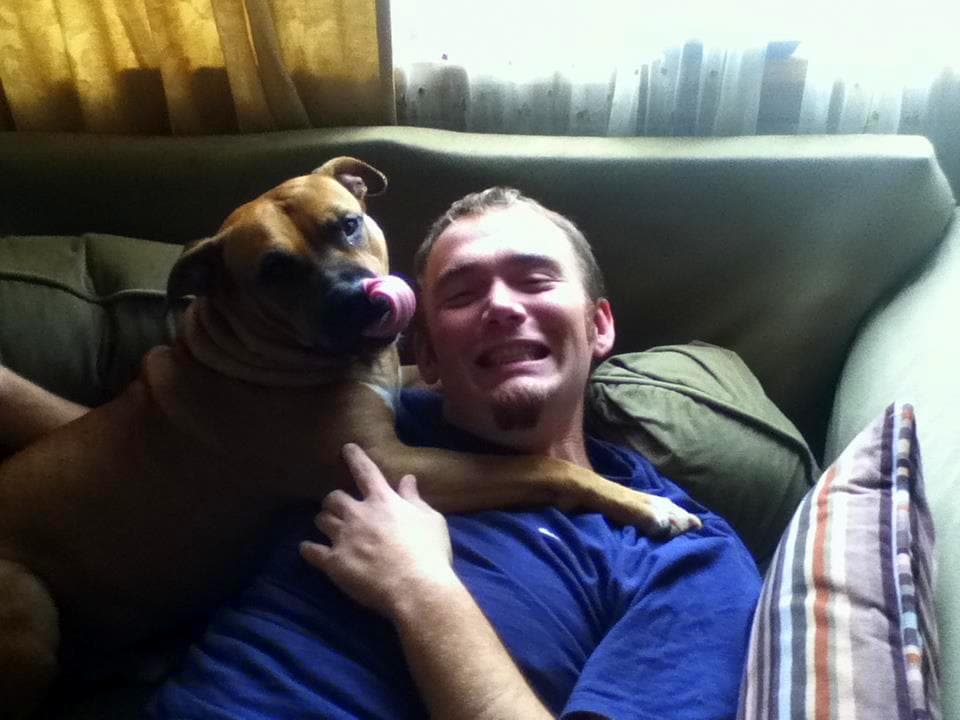 Pit bulls break stereotypes every day. Many people who have only seen horrific news articles are afraid of pit bulls, believing they are all ticking timebombs. People who get to know pit bulls usually find that the ones raised in homes with love and training are very friendly and gentle.
Pit bulls are lap beasts.
Two of their favorite activities are snuggling and smooching.
Many pit bulls are bladder camels, and prefer to stay cozy in bed rather than go outside at 6 am, even if they haven't gone out since 6 pm the night before.
There is no need for a garbage disposal if you have a pit bull.
When healthy table scraps are part of their diet, they are less likely to search for garbage can goodies they feel they have been deprived of.
Good-natured, family pit bulls make terrible guard dogs, because they are always happy to make a new friend.
They can sleep right through a break-in, but will hide from thunder.
Pit bulls are always entertaining, and many are terrific party guests.
Adopt one (or twelve) today!