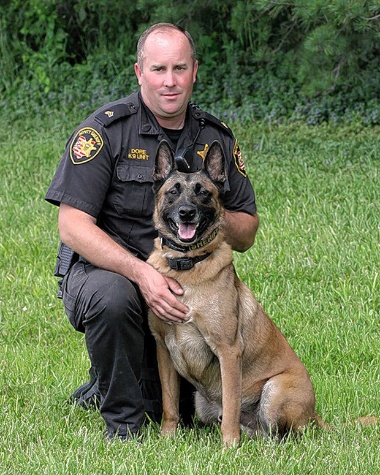 An Ohio police dog is being recognized for his heroism this week. Rek, a 4-year-old Belgian Malinois helped protect other officers when he restrained a combative suspect back in February.
Each year the Delaware County Red Cross in Ohio recognizes county heroes that make a difference. Rek will be the recipient of the first Pet Hero Award ever awarded at the annual Delaware County Red Cross Heroes Breakfast this Thursday at Ohio Wesleyan University.
Responding to a call back in February Rek restrained an aggressive suspect. In the process Rek suffered a hard blow to the head when the suspect punched him. The punch caused lacerations to Rek's face, but Rek didn't back down and kept the suspect restrained until fellow officers were able to use a Taser and to restrain and arrest the suspect.
"In this situation, a 360-pound gentleman who was determined to fight us probably would have injured some of us trying to effect an arrest, so having the dog being there basically saved us from getting injuries," said Rek's partner Sgt. Larry Dore.
Dore is proud of Rek's performance and commitment and happy that he is getting the recognition he deserves.
"It's not often that publicly these dogs get recognized for what they do, but every day, these dogs across the country serve us by sniffing bombs in our schools and finding drugs," said Dore.