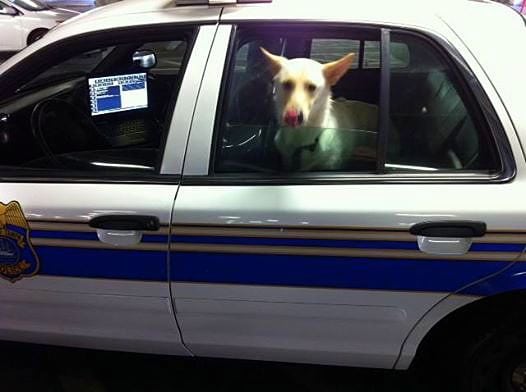 When a dog owner was injured in an accident, responding officer Erica Collum couldn't stand to leave the dog behind, so she took her on a "ride-along" until other arrangements could be made.
"Her name is Blondie and she just got picked up to go to her temporary home until her owner can come get her (with her favorite toy of course)! She's a sweetheart and did great!" Collum said on the Tampa Police Department's Facebook page.
Tampa Fire and Rescue took a driver to a hospital after he sustained injuries in an accident, and his dog Blondie was left behind. Officer Collum felt for the owner and the dog, so she decided to personally care for the two-year-old German Shepherd until a loved one could pick her up.
Hillsborough County Animal Control Services picked her up to stay temporarily. An out-of-state family member volunteered to care for Blondie if her owner needed some help.
"The officer that picked Blondie up at my place of employment where we were watching her was sooo good with her," said one commenter. "Petting her and talking to her. Another animal lover like us! She is a very sweet dog."
TPD spokeswoman Andrea Davis, who posted the photo of Blondie to their Facebook page was not surprised by Collum's compassion.
"If you're an animal lover, it doesn't matter what you do for a living," Davis said. "You're gonna do what you can to help that dog."