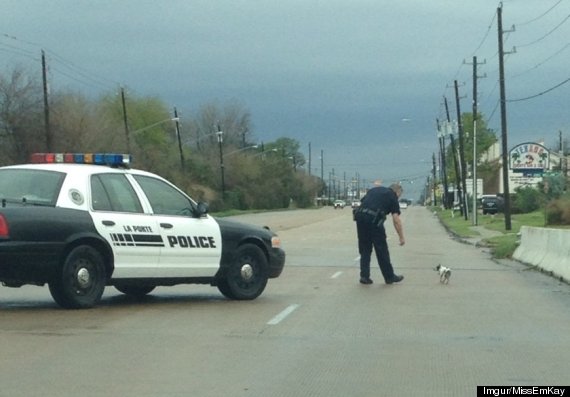 When a jittery rat terrier named Cujo found himself in some serious trouble on Monday, a La Porte police officer came to his rescue and shut down traffic to save the dog's life.
Cujo spends most of his days hanging around his Texas home. He has a bad hip and doesn't get around very easily. "I would describe him as a Napoleon-type of dog," said Cujo's owner Jeremy Zapalac. "He's very short, but with a very big ego."
Zapalac and his family were surprised when Cujo managed to escape out a door one of the family members had left cracked open on Monday morning and actually wandered away from his home.  The Zapalac family quickly started searching the neighborhood for Cujo, even calling relatives to help.
Despite Cujo's bad hip he managed to make it all the way to Spencer Highway where he was soon in a lot of trouble as he wandered into a moving lane of traffic. Luckily for Cujo La Porte police officer Kyle Jones was driving by at the time. "He's not going to make it if I don't do something," said Jones, who made a quick decision that saved Cujo's life. Jones spun his car around and blocked traffic on the highway. "When I saw it and saw the size of it, I immediately hit my lights and shut all the lanes off," said Jones.
Jones got out of his patrol car and started calling to Cujo. "He kind of looked at me and said 'Man, I'm glad you're here.' He let me pick him right up," said Jones. Jones put Cujo in the back of his patrol car and took him to animal control. Cujo was wearing his ID tag and animal control was able to easily reunite him with the Zapalac family.
The family was so grateful for the efforts of Officer Jones. In a thank you e-mail to the police the family wrote, "Words cannot describe how grateful I am for this wonderful, caring officer and his kind deed!! It is a wonderful feeling to know we have people like him looking out for us."