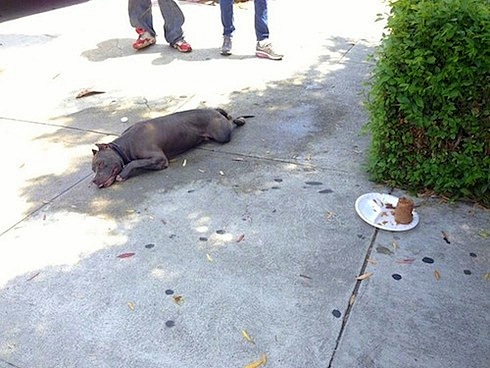 Officers from the Culver City Police Department are being commended for the heroic measures they took to save a seriously ill dog they found dumped on the street.
Lt. Randy Vickrey's team was responding to the call they had received about a drunk driver who had a dog in the trunk of his vehicle. The driver stopped long enough to take the dog out of the trunk and leave it on the street before making a hasty getaway from police.
The sick dog was carefully placed in the back seat of the patrol car and rushed to Advanced Critical Care of Los Angeles.
"It takes courage (and a large dose of compassion) to lift a scared and defensive pit bull into the back of a police cruiser and rush it to emergency care," according to the clinic's Facebook page.
The officers nonchalantly brushed off the praise they receive, saying that their duty to protect and serve also included four-legged citizens. However, their actions are highly regarded in the dog-lovers community.
"Wow! Amazing! My admiration and respect to you guys. We hear so many awful stories on the news of police officers shooting dogs that meant them no harm, especially pit bulls. Thank you so much for saving this one. The world won't change because of this one dog you saved, but you changed the one dog's world. Its a great feeling to save a life like that," Amy Ferguson Wolf posted on the department's Facebook page.
The six or seven-year-old dog, now aptly named Cruiser, was on the brink of death when he was rescued. He was treated for dehydration and vomiting, and has completely recovered from his illness.
The driver, 62-year-old Thomas Naylor, was later arrested and charged with one count felony animal cruelty, driving under the influence, witness intimidation and driving without a license. He pleaded no contest to animal cruelty and was sentenced to one year in the county jail with three years of probation. He will also not be allowed to own an animal and is ordered to pay restitution for Cruiser's medical treatment.
Cruiser is in the process of being transported to In Dogs We Trust, a nonprofit organization in Arizona that strives to find homes for powerful breeds and special cases like Cruiser's. Though sweet and friendly, he is aggressive towards other dogs and needs to find a home where he is the only pet, at least until he can be trained to tolerate others.