Housetraining a puppy or adult dog can be challenging, and you'll welcome some help!
We understand how stressful potty training can be for both you and your dog, so you'll be happy to hear that we have your back! In addition to using positive reinforcement training methods and reward-based training, did you know that you can use toilet training aids?
Read this guide to learn about the top potty training aids for dogs!
Top Potty Training Aids and Supplies for Dogs
Here are our favorite potty training supplies and aids you can use for housetraining your puppy or new adult dog.
Everything in this guide can be found in good pet stores or online.
Potty Training Spray
Potty training spray contains a synthetic pheromone that's designed to attract your puppy or adult dog to the spot where you want him to relieve himself.
Dogs are highly scent-oriented, and attractant sprays can make a very useful housebreaking aid.
Amazonia Go Dog Potty Training Spray
Amazonia Go Dog Potty Training spray for dogs is a best-selling product that's suitable for indoor and outdoor use.
Simply spray the spot where you want your puppy or dog to go potty. Your furry friend will be attracted to the scent and relieve himself at the designated place.
Petsafe Skip To My Loo Dog Training Scent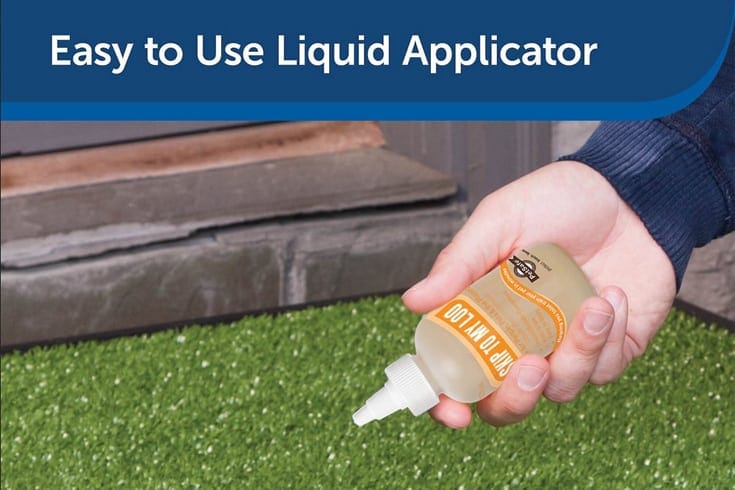 Skip To My Loo Training Scent is a handy potty training aid that can help you with your dog's housebreaking training.
The potty training spray replicates urine odor, guiding your dog to the appointed potty spot. The spray is suitable for use on artificial grass, pee pads, or in your backyard.
The spray is eco-friendly and safe for use around your pets and people.
Pee Pads
Puppy training pads are a handy potty training aid if you live in an apartment with no outdoor space or your dog refuses to go outside, owning to anxiety or an aversion to wet weather.
My elderly dog developed bladder and bowel control issues as she reached the end of her life, and I can honestly say that pee pads were a godsend for me at that difficult time.
Disposable wee-wee pads are quite expensive in the long run and eventually end up in a landfill. For that reason, we recommend using washabasle pee pads that you can reuse time and time again. 
Humane Pet Co Washable Pee Pads
Humane Pet Co Washable Pee Pads are made with four separate layers. The uppermost layer is breathable and soft, the second layer is a highly absorbent moisture trap, the PVC waterproof layer prevents leaks, and the rear of the pad has a non-slip coating to prevent your dog from slipping.
The pads are made using superior-quality materials, making them twice as absorbent as many other similar pads. The cute bone print design makes this practical potty training aid easy on the eye, too.
Green Lifestyle Washable Underpads
Green Lifestyle Washable Underpads are made from human-grade materials. These training pads are designed for use by people and dogs with continence issues, and they are great for indoor potty training.
The pads are quilted for comfort, highly absorbent, and have a leakproof, waterproof backing. These washable pads are perfect for large dogs since they are designed to handle large volumes of urine. Reinforced seams and premium-quality fabric mean that the pads are long-lasting and hold their shape after numerous washes.
Artificial Grass
Some dogs are not comfortable with the idea of relieving themselves on a pee pad. In that case, an artificial grass litter box could be a helpful potty training aid.
Artificial grass can also form an important part of an outdoor potty training plan, helping dogs to transition from going indoors on a litter box to using a designated potty spot in your garden.
Downtown Pet Supply Pee Turf
Downtown Pet Supply Pee Turf comes complete with a lightweight litter box that's designed for indoor use.
This fake grass dog toilet features odor-control technology that keeps your home odor-free, and a double-layered system creates a natural look. The litter box component collects liquid waste and is really easy to clean.
Wee-Wee Premium Patch Pet Potty for Dogs
The Wee-Wee Premium Patch Pet Potty is perfect for teaching your puppy or dog to relieve himself indoors, but you can also use it outdoors on a patio or backyard.
The artificial pet turf has a realistic look and feel that helps prepare your dog for outdoor potty training. For easy, hassle-free cleanup, this pet potty has a pouring spout.
Training Treats
Many puppies respond well to the prospect of a food reward, which can be extremely handy for potty training your pet.
Training treats make the ideal edible training aid that you can carry with you as an immediate reward for your puppy when he goes to the right place at potty time.
Chippin Superfood Omega-3 Training Treats
These delicious training treats from Chippin contain 17% crude fat and 20% crude protein, and they come in tempting peanut butter and cricket flavors.
Chippin Superfood treats are ideal for pups with food sensitivities because the treats contain no known allergens, such as chicken or beef. Instead, the recipe uses novel sustainable proteins, including crickets and wild-caught silver carp. The treats contain added vitamin B12 as an extra health-boosting bonus!
These tasty, healthy training treats can also double as a meal topper for fussy feeders.
KingKanine Kalm CBD Dog Treats
These delicious treats from KingKanine are made from all-natural ingredients and come in three flavors: honey oats, apple, and cinnamon.
These hard-chew treats contain Omega-3, cannabidiol, turmeric, apples, oats, and honey and are gluten-free. The CBD oil used in these training treats contains no THC and is sourced from hemp.
The treats are tested for safety by an independent laboratory.
Dog Doorbell
Potty training bells are an excellent puppy toilet training aid that works for most dogs.
If you're using outdoor-only potty training, fix the bell right next to your outside door at a height your puppy or dog can easily reach. Every time you take your puppy or dog outside, ring the bell.
Amazingly, your canine companion will quickly understand that he must ring the bell when he wants to go outside for a bathroom break!
Bluetree 2 Pack Dog Doorbells
Bluetree dog doorbells are an excellent toilet training product that's a best-seller on Amazon.
The bells come in a two-pack, offering excellent value for money and allowing you to position a dog doorbell at two doors in your home rather than just one. As an added bonus, you get a free dog whistle with your purchase!
The bells have three handy length adjustments so that you can accommodate dogs of all sizes by hanging the bells within easy reach. The jingle bells are made using durable metal, and the cords are custom-made from heavy-duty nylon. These bells are pretty loud, ensuring that you don't miss your dog's request to go outside.
Weird Tails Wireless Dog Doorbell
These wireless dog doorbells are suitable dog potty training tools for dogs of all breeds and sizes.
The wireless bells have Velcro tapes that you stick onto the door at a height to suit your dog. That's great, as it means you can adjust the bell's height as your puppy grows into adulthood.
Your dog doesn't need to press the bell to make it ring. A slight touch on the bell is all that's required to activate the device. The Weird Tails Wireless Dog Doorbell has 55 polyphonic ringtones and five adjustable volume levels, so you'll be sure to hear your dog's potty request wherever you are in your home.
Dog Crates
Most pet parents choose to crate-train their dogs, and a crate can form an important aspect of proper dog potty training. Dogs won't intentionally soil their sleeping area or den. So, provided the crate isn't too big, your pup should wait until you let him out to go potty.
The best crate for puppy potty training is a wire dog crate. Wire crates come in various sizes, are easy to clean in the event of accidents, are collapsible for easy storage and portability, and provide excellent ventilation for your puppy.
Choose a wire crate that comes with a puppy divider. You can use the divider to adjust the size of the crate to suit your puppy's stage of growth, saving you from having to buy multiple crates as your puppy grows.
Diggs Revol Dog Crate
The Diggs Revol dog crate includes a puppy divider panel, making it ideal for crate training your furbaby as he grows.
The crate features wide-gauge, diamond-shaped mesh to prevent your pup's paws and nose from becoming trapped. There's a ceiling hatch to give you easy access to your pet in an emergency and a side door, too.
The Revol crate is suitable for use when traveling with your dog, having wheels and a carrying handle for excellent portability. In addition, the crate folds flat for portability and easy storage, and a slide-out pan is included for easy, hassle-free cleanup in the event of potty accidents.
Midwest iCrate
This single-door, collapsible wire dog crate from Midwest is a best-selling product that comes in various sizes to suit small, medium, and large dog breeds.
If you have a Houdini hound, don't panic! This crate has additional security features that will keep your pet safely confined, including a slide-bolt door latch. The crate has a carrying handle and protective rubber feet and comes complete with a divider panel.
In the event of a puppy potty accident, the crate's durable, leak-proof plastic pan protects your flooring and makes cleanup easy and hassle-free. Assembling and disassembling the crate is quick and easy without the need for any additional tools.
The large door openings, low thresholds, and rounded corner clips can help to protect your pup from bumps and trips.
FAQs
In this part of our guide to puppy house training products, we answer a few of the most frequently asked questions on this subject.
Q: How late is too late to potty train a dog?
A: Although potty training is much easier if you start the process early, it's never too late to teach an old dog new tricks!
However, if you have an older pup, you might find housetraining him quite challenging. Older dogs can be set in their ways, and the retraining process can be frustrating. That said, with patience, positive reinforcement, and reward-based training methods, you'll succeed eventually!
Q: What is the average time it takes to potty train a dog?
A: Every dog is different, and the time it takes to potty train your pup can vary, depending on your pet's breed, size, and age.
It typically takes between four and six months to fully housetrain a puppy. Adult dogs that have lived in a rescue or shelter for a while can often take longer to potty train.
Q: What is the best age to potty train a dog?
A: Puppies generally stay with their mothers until they are eight weeks of age. In theory, you can begin potty training your puppy once he's weaned and ready to go to his new home.
So, housetraining a puppy can begin anywhere between eight and 16 weeks old. At that age, a puppy has sufficient bladder and bowel control to learn to hold it for longer.
Final Thoughts
I hope you enjoyed our list of potty training aids for dogs. If you did, please share the article.
Potty training a puppy or adult dog can be challenging, so having some potty training aids on hand can be a godsend for both you and your pet. Pee pads, artificial grass litter boxes, and attractant sprays are all readily available in good pet stores and online, and there are plenty of choices.
What potty training aid did you find most helpful? Tell us in the comments box below!