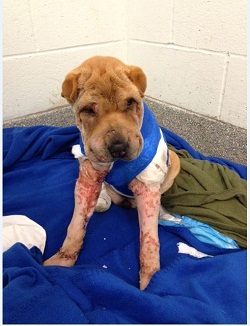 Mugsy, a 6-month-old puppy, was given only a 20 percent chance of survival when he contracted rare flesh-eating bacteria. Mugsy pulled through though and is on the road to recovery.
Over Memorial Day weekend Mugsy's owner Chuck Rees noticed that something was wrong with his puppy.
"He started acting very lethargic and not himself," said Rees. "He started developing red bumps on his stomach and we thought maybe something bit him.
By the time Mugsy arrived at Angell Animal Medical Center in Boston his red bumps had become open wounds and he was beginning to lose skin on his legs. He was immediately put on antibiotics and tests revealed he had necrotizing fasciitis, a deadly bacterial infection that is referred to as "flesh eating" because the infection causes the tissue to die.
Mugsy's infection was rare and stunned Dr. Roxanna Khorzad, who was caring for Mugsy and Angell Animal Medical Center.
"Not only was this dog incredibly sick – and already close to death – but he was suffering from an infection that is almost never seen in pets. Every second counts in a diagnosis like this and, to be honest, I was not optimistic that he would recover."
The bacterium causing his infection was resistant to many antibiotics making Mugsy's chances of survival even slimmer. In order to treat the infection Mugsy would have to undergo surgery.
"You can't just throw something at it like penicillin or amoxicillin," said Dr. Kiko Bracker of Angell Animal Medical Center. "There is such tissue damage that the area has very poor blood supply and surgical removal of the damaged tissue is necessary."
Mugsy was scheduled for surgery on June 4th, but only a few days before surgery Rees received a call that Mugsy had taken a turn for the worse and might need to be euthanized. They gave him an aggressive round of antibiotics and pain medication and hoped for the best.
The efforts paid off and Mugsy had enough energy to undergo his surgery. On June 4th surgeons removed some of Mugsy's dead skin and he was sent home to be treated with antibiotics. Only two weeks later though Mugsy stopped eating and Rees rushed him back to Angell Animal Medical Center.
"I could feel a blockage in his intestines just by palpating with my hands," said dr. Khorzad. "I knew in that moment the infection was now so serious that Mugsy's already slim chances of survival had grown smaller."
Rees was given two options, a risky surgery to remove part of Mugsy's intestines or euthanasia. Rees wouldn't give up on Mugsy though.
"We had come so far at that point and I wanted to do whatever I could to try and save Mugsy," said Rees.
On June 22nd Mugsy underwent a two-hour operation that removed 40 percent of his intestines. During the surgery Dr. Khorzad also performed a skin culture to check for any sign of fasciitis. Thankfully there was none.
A month after Mugsy's surgery he is continuing to recover at home and there have been no further signs of infection. Dr. Khorzad is optimistic that Mugsy will go on to have a long and normal life.