A Tampa, Fla., dog came to the rescue of his house mate, Kitty the cat, when the feline was attacked by two coyotes outside their home.
The hero canine is a rescue Pit bull named Jack. The dog belongs to Peter Lewis, who is currently deployed serving our country in Afghanistan.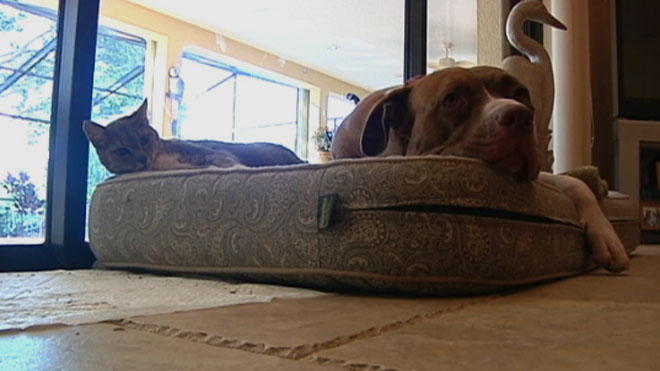 Jack is being looked after by Lewis's mother, Sherree Lewis, she owns Kitty and says the two pets have been getting along just fine.
On the weekend of Oct. 12, 2013, Kitty was outside the Tampa home when two coyotes attacked her.
"As I was walking to the door, I could see the coyotes," Sherree Lewis told MyFoxTampaBay.com. "One had her by the neck and the other had her by the tail."
As soon as Jack saw his house mate in trouble, he jumped into action to defend the feline.
Jack was able to get the coyotes to drop Kitty and soon after they fled the scene.
Kitty suffered a broken tooth and brain swelling, but veterinarians expect her to recover.
"[Jack] likes other dogs," said Lewis. "He wouldn't have done that if there were dogs out there. It was like he knew the difference."
For now Jack continues to look after his feline friend and constantly checks over Kitty to make sure she is safe and recovering well.
"Jack is a hero," Lewis said. "He saved the kitty's life and he just shows how good dogs can be."