Last September, Chrissy Boyles from Nevada was raising funds to help Stitch, a six-month-old pit bull puppy with two cleft lips and a cleft palate, who had been abandoned to his own fate in a Southern California dumpster. Boyles never imagined that her rescue dog would inspire two local children suffering from the same birth defect.
Stitch was found by a homeless man in California, and luckily for the canine, Palomino Pet Rescue Inc. from Sparks, Nev., took him in and gave him a second chance in life. Boyles, a licensed veterinarian technician, became Stitch's foster mom.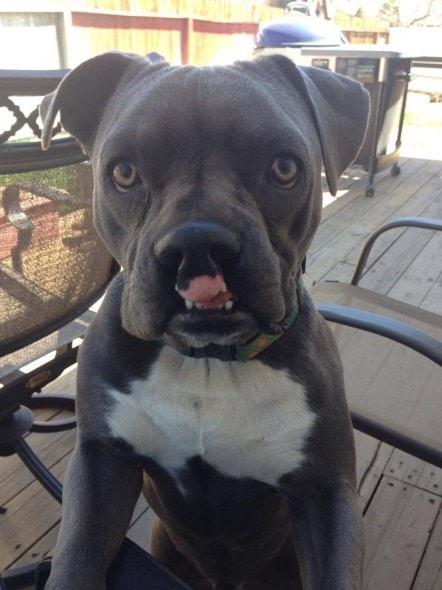 Most dogs born with a cleft lip and palate rarely survive past puppyhood. Those that do are humanly euthanized because repairing these birth defects is costly and possible adopters and/or rescue organizations usually do not have the economic means to cover the surgery's cost.
When Ashlee Rodman saw Stitch's story she knew her two children, four-year-old Sam and six-year-old Lilly, would be very interested in the dog.
Sam and Lilly were born with cleft lips and palates and Rodman knew that her children would be inspired to learn they were not the only ones with that birth defect.
"I just wanted to show my kids that they are not alone," Rodman told KRNV-DT Reno. "It's not only other humans that have this, cleft lip and palate, but animals have it also."
Lilly and Sam now love to share Stitch's story and they use the dog as inspiration to help them get through their own corrective surgeries. If Stitch can go through them, they can do it, too.
Sam has received all corrective surgeries and Lilly still has a few more surgeries left to do, but these will be done as she grows.
As for Stitch, he is now done with all corrective surgeries and has found his forever home in Boyles' own home. He now tries to help other special needs pets in his community as well as create inspiration for his human followers going through similar health challenges.
To learn more about Stitch, follow him on his Facebook page. Donations are still welcome to support other pets in need. They can be sent to Palomino Pet Rescue Inc., 1285 Baring Blvd #276, Sparks, Nv 89434.