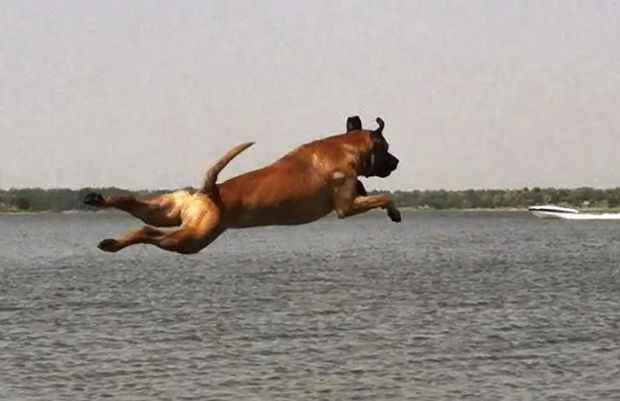 Two years ago an abandoned pit bull jumped into the arms of T.J. Yoakum and the two have been together ever since. The dog which Yoakum named Little Bear has fit in perfectly with his outdoor lifestyle and is now winning dock diving competitions.
In 2011 Yoakum was on a fishing trip when he turned onto a gravel road and spotted three pit bull puppies. One of the puppies ran right into his arms. Yoakum never thought he'd own a pit bull, but when the puppy leaped into his arms he knew he'd found his new dog.
The puppies were barely weaned and bloated from malnutrition.  All three puppies got the care they needed. Yoakum took home the puppy that had leaped into his arms, Little Bear, and the other two puppies were adopted by Yoakum's cousin and uncle.
Little Bear and Yoakum have become best friends, spending the majority of their time outdoors in the woods, at the river and camping. While on one of their outdoor adventures about a year ago Yoakum discovered that Little Bear had a natural talent and love of jumping.
Yoakum then heard about a DockDog competition this summer and decided to give it a try. Yoakum didn't know much about the sport and pit bulls are not a common breed that competes at these events.
"There's me and my hillbilly brother showing up with this pit bull," said Yoakum.
Despite Little Bear's lack of pedigree and Yoakum's lack of experience they shined in their first competition. Little Bear won both the amateur and professional division as he leaped over 22 feet from the edge of the dock.
Since then Little Bear has continued to compete and win. He is also gaining fans, like Denise Want who met Yoakum and Little Bear at their first competition.
"He was just a kid with his dog, and I could tell he didn't know the rules. It was, 'Oh, just a pit bull jumping, who cares?'" said Want.
When Want saw Little Bear take his first jump from the dock in competition though she had tears in her eyes. She is now trying to help the pair get sponsors and help them continue to pursue competing. She recognizes the special bond the two share and how much joy they get out of competing.
"That dog loves his owner to no end, he's so driven to please him," said Want. "That dog knows his owners saved his life."