When Harry arrived at KC Pet Project's shelter in Kansas, Mo., this past Sunday night, he shocked rescuers. His fur had hardened into 5 pounds of matted hair hiding his malnourished and underweight body, his eye lashes grew into his eyes damaging his corneas and leaving him almost blind, and part of his nose is missing. Know one knows who abused and neglected this dog, but what we do know is that Harry is now getting the medical attention he needs.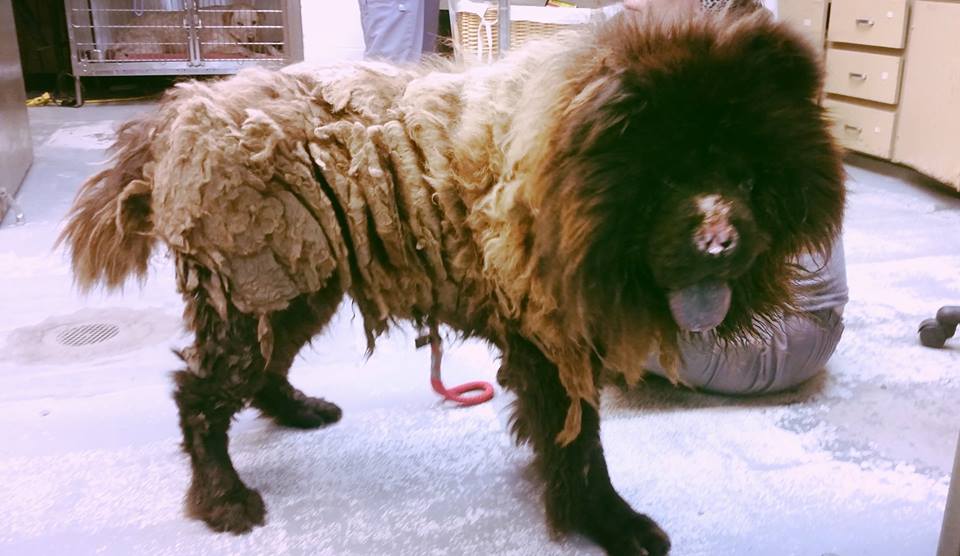 KC Pet Project workers spent more than 2.5 hours freeing the dog from his matted hair jail. The pet needed sedation and staff worked arduously to shave off the 6 inches deep of hair, feces and dirt clumped on Harry's skinny body.
"We can't imagine the enormity of this Chow Chow's suffering due to cruel neglect," posted rescuers on Facebook. "Despite all of [it], Harry has been so sweet and gentle with everyone and is loving the special attention from our veterinary team and staff."
For now the pet is getting several small meals a day and his pain is manage with medication. Rescuers ask the community to consider making a donation at the Roadrunner Fund, which will help cover Harry's and other rescue dogs' medical expenses. All donations will be matched dollar-for-dollar by the Petco Foundation.
To learn more about Harry and to see his recovery visit KC Pet Project's Facebook page.