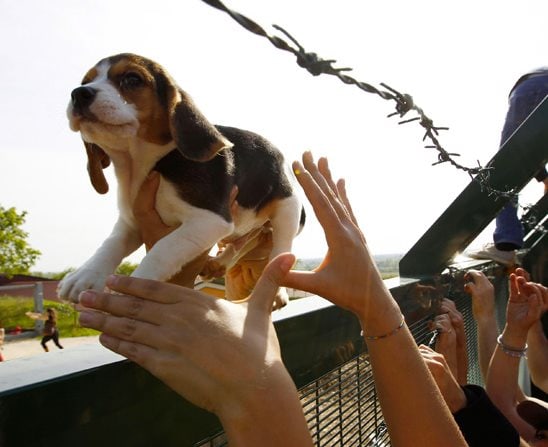 After years of protests targeting the facility and its mistreatment of animals, advocates are celebrating the closure of Greenhill Farm. Thirty rangers from Italy's forest service raided the notorious breeding facility Wednesday and shut it down.
Located in Montichiari, close to the town of Brescia in northern Italy, Greenhill has drawn fire from activists for breeding thousands of Beagles for vivisection laboratories, and raising them in inhumane conditions.
Following the raid, officials said three employees were already under investigation for animal cruelty.  The 2,500 dogs living on the property were seized, and are being held there until they can be relocated.
The raid occurred just months after after a thousand anti-vivisection activists stormed the compound to liberate puppies. A few protesters were arrested, but many believe that the attention the incident drew led officials to take a closer look at Greenhill.
Animal rights activists say the closure  of Greenhill represents a massive victory in the war against animal testing.
"It's the first good news of the year and I am happy it's coming from Italy," said French film star and animal rights activist Brigitte Bardot. "This dog farm of shame must permanently close its doors because we have no right to abandon thousands of dogs in hell," she said.
The Italian senate is now considering a provision to ban the breeding of dogs, cats and primates for research purposes.