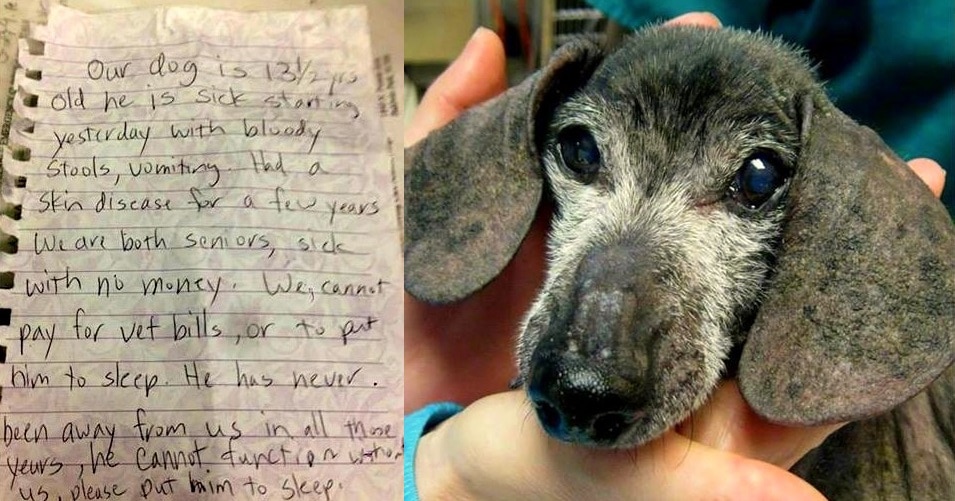 Remember Harley, the senior Dachshund lovingly left at a shelter in a basket with a note from his elderly owners who could no longer afford to care for him?  Rescue group Leave No Paws Behind took him in and found his family.  The dog, whose real name is Otto, will have expenses for the rest of his life paid for by the rescue, and will be reunited with his family at the end of this month.
Less than a week ago, the 13-year-old Dachshund was left wrapped in a blanket in a basket outside Baldwin Park Animal Shelter in California.  Attached to his basket was a heartbreaking letter:
"Our dog is 13½ years old.  He is sick starting yesterday with bloody stools, vomiting.  Had a skin disease for a few years.  We are both seniors, sick with no money.  We cannot pay for vet bills, or to put him to sleep.  He has never been away from us in all those years.  He cannot function without us.  Please put him to sleep."
Instead of honoring the request to have him put to sleep, the shelter contacted Leave No Paws Behind, a non-profit, all-breed, all-foster rescue group that specializes in senior and terminally ill animals.  They took the dog in and called him Harley.  He was taken to a veterinarian, who determined that not only could he be treated, but that he likely has a couple more years of life left in him.
Because Harley seemed so loved and well-cared for, LNPB wanted to find his owners to see if something could be arranged.  Group founder and CEO Toby Wisneski reached out to the public, and his owners came forward after seeing their story on the news.
The couple, who wishes to remain anonymous, explained that they are both ill and cannot afford their own treatments or tires for their vehicle to get them help.  When their dog, whose full name is Otto Wolfgang Maximus, got sick, they were told by a vet that costly tests needed to be run.  They could not even afford to have him euthanized.  They were "hysterical," and didn't know what else to do except leave him at a shelter.
"My wife was in tears, as she left him, saying, 'I am sorry, I am sorry,'" the man explained in a phone interview.  "We are retired, I am handicapped, and my wife is not well.  We live week to week, and can't even afford our medical bills. We can't even go to the dentist any more… we have no money."
The rescue wanted to see Otto back where he belonged, and told the couple that they would return him, and pay for his food and healthcare for the rest of his life provided they could stop by for weekly visits.
"Ninety eight percent of the rescues we take in belong with us," Toby said.  "There are 1-2 percent of owners who love their animals very much and just believe they have no other option but to surrender them."
The couple lives outside of California and was on a ministry trip when they dropped Otto off.  They plan to pick him up at the end of the month or when they have enough money to purchase desperately needed tires for their vehicle.  LNPB is working to see that this problem is solved, too.
"We thought he was dead, but he lives," the husband said. "He's being well taken care of and, boy, we're just so extremely grateful."
LNPB is seeing more and more pets left in their care as owners' failing health and finances leave them unable to care for their beloved pets.  Toby wants people to know that if they are good, loving owners, the rescue wants to help them so they are not forced to surrender their family members.  If you would like to donate to Leave No Paws Behind, please click here.
Los Angeles Local News | FOX 11 LA KTTV
Update:
"We are thrilled to announce that Otto's mommy and daddy will very soon be receiving a brand new set of tires! I want to thank all of the amazing human angels that offered to help them, you truly, on a day to day basis, continue to restore my faith in the goodness and kindness of human kind! We were contacted by someone in the "tire industry" who offered to help! We will of course announce Otto's big reunion when we have the absolute pleasure of placing him back in their loving arms! Otto will have to remain in the hospital for another 10-12 days under treatment before he will be released into their foster care! Thank you again for all you do for the animals! tw, LNPB"